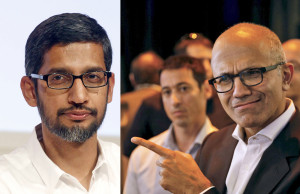 22 April 2016, USA :
Two of Apple's chief rivals, Google and Microsoft, on Friday announced a mutual agreement to drop regulatory complaints against each other around the world, further promising to try and settle any disputes themselves before using governments as a weapon.
"Our companies compete vigorously, but we want to do so on the merits of our products, not in legal proceedings," a Google spokesperson said in a statement. "As a result, following our patent agreement, we've now agreed to withdraw regulatory complaints against one another."
The companies will also reportedly look to settle disputes internally before turning to regulators in the future.
Last year, the companies agreed to settle their outstanding patent lawsuits. The deal announced Friday will also apply around the world.
The two companies have long been rivals, with Microsoft using regulatory measures to put a damper on Google's runaway success.
In 2013, Microsoft was miffed when Google dodged a possible enforcement action from the Federal Trade Commission.
"In other words, there appears to be no reason, despite the FTC's optimistic statements this morning, to believe that Google recognizes its responsibilities as an industry leader," the company said in a blog post at the time. "That is certainly consistent with the lack of change we continue to witness as we and so many others experience ongoing harm to competition in the marketplace."
The switch in policies may be attributable to Google and Microsoft's latest leaders, Sundar Pichai and Satya Nadella, who appear to have adopted a more friendly stance than their predecessors. Microsoft in particular has adopted a multi-platform strategy, including developing more apps for iOS, Android, and Mac, not just Windows devices.
The new agreement, announced in statements released Friday, isn't driven by a single event but is a natural progression of the companies' relationship, said one person familiar with the deal.
Image : engadget.com