22 July 2016, India :
One of founding member of Cvent India and former Vice President of Sales at Oyo & Housing, Saurabh Singh, joins as Chief Business Officer at ExtraCarbon. As Country Manager of Cvent and part of a core 4 member team,
Saurabh was involved in scaling operations from incubation to key life cycle events leading to an IPO. He will lead the demand generation in B2B & C2B with evangelising the web and mobile strategy.
Saurabh Singh said, "I have been seriously looking at this unorganized sector for the last few years and believes that the country is poised to take action on waste, recycling and end of the life cycle products and the only way to do that is by building a world class tech enabled platform to bridge the gaps in this space, and ExtraCarbon is the company that is poised to do it right."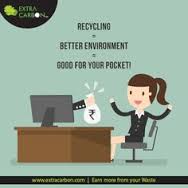 ExtraCarbon was launched on 26th June, 2013 by Gaurav and Anant when they saw the need for a place where the local community within a city could come together and take everyday actions to choose a right kind of future for them.
Also Read- 
Comments
comments