21 July 2016, USA :
Former U.S. Attorney General Eric Holder has joined Airbnb to develop a strategy to address potential racism and other discrimination against people using the online home-rental service, following complaints by some customers.
"We are honored Holder has agreed to join our team to help craft a world-class anti-discrimination policy," Airbnb CEO Brian Chesky wrote in a blog post on the site. "Holder will be working with John Relman, a leading civil rights attorney and national expert on fair housing and public accommodation issues. While we have a policy that prohibits discrimination, we want this policy to be stronger. And we will require everyone who uses our platform to read and certify that they will follow this policy."
Airbnb has come under fire in recent months as users have spoken out about their experiences of discrimination on the platform, including black users who shared their struggles to find rentals using the hashtag #AirbnbWhileBlack and a transgender woman who revealed that she had been rejected by one of the company's "superhosts".
A 2015 study by Harvard Business School researchers found evidence of "widespread discrimination against African-American guests" on the platform.
Federal civil rights law bars hotels and other public accommodations from discriminating against customers on the basis of race, but it is as yet unclear whether those rules apply to Airbnb and other short-term rental companies that do not operate lodgings themselves.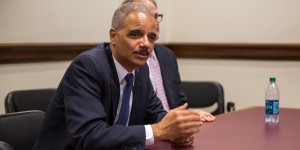 Eric Holder said, "Airbnb is committed to building a community where everyone can belong, no matter who they are or what they look like. I'm eager to help them craft policies that will be the model for companies who share Airbnb's commitment to diversity and inclusion."
Airbnb's current policy tells hosts that they are required to comply with local laws, including, in the US, federal anti-discrimination laws. When the new policy is in place, Chesky concluded, hosts will be required to "read and certify" that they will comply.
Also read-
Comments
comments