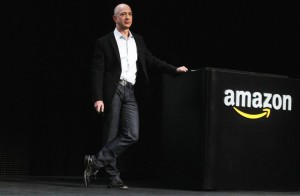 22 July 2016, USA :
It was just a normal day for everyone except Jeff Bezos; He was too busy making money! With a whopping net worth of $65.05bn Jeff Bezos has become world's third richest man.
Jeff Bezos, Founder and Chief Executive Officer of Amazon took over the third richest position from Warren Buffett who is Chairman, CEO and largest shareholder of Berkshire Hathaway.
Bezos is only behind Spain's Amancio Ortega, the Inditex SA founder who has a $73 billion fortune, and Microsoft's Bill Gates, the world's richest person, with $89 billion.
In April this year, Amazon posted its biggest-ever income, with first quarter sales surging 28%, including a 64% rise in Amazon Web Services. The company's Prime membership model is also responsible for higher profits. Brian Olsavsky, chief financial officer at Amazon, said Prime is showing success overseas too as Amazon expands its service in Europe and Japan.
Amazon recently disclosed that its Prime Day sale was its biggest sales day ever with worldwide orders rising more than 60% over 2015. It sold a record number of gadgets, although it remains unknown as to how many people signed up for the $99 annual subscription. The Fire TV stick was the best-seller.
Meanwhile, Buffett gave away $2.2 billion worth of his stocks to the Bill and Melinda Gates Foundation this year. He was diagnosed of cancer in April 2012 and for he successfully completed treatment in September 2012 since then he's pledged to donate most of his assets for a charitable cause. Buffet is 85 years of age while Bezos is 52.
Also Read- 
Comments
comments