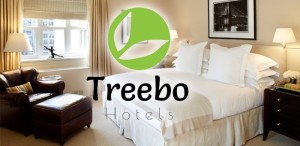 22 July 2016, India :
The Bengaluru-based chain of budget hotels, Treebo Group of Hotels raised Rs. 112 crore in Series B funding led by Bertelsmann India Investments (BII), taking the total funds raised by the hotel chain to Rs. 150 crore.
Treebo plans to utilize the funds to expand its business by to 12,000 rooms across 450 properties in the next 12 months. Treebo currently has 125 hotels in 25 cities across the country in its network and the company said it plans to use the fresh round of funds for furthering its expansion, strengthening its marketing outreach.
"Treebo has shown a tremendous ability to drive steady scale, and healthy unit economics at the same time," said Tarun Davda, managing director at Matrix Partners which co-led an Rs 38-crore round with SAIF Partners in June 2015.
Treebo was founded in February 2015 by former Myntra executives Sidharth Gupta and Rahul Chaudhary along MakeMyTrip's Kadam Jeet Jain. The company offers budget hotels rooms to travelers in the Rs 1,000-3,000 price range, with average booking rate at Rs 2,000. It currently has a network of 3,000 rooms, where it is able to drive around a 75% occupancy rate on an average.
"We believe partner success is closely linked to guest experience. We have therefore built deep relationships with hotel owners by partnering with them for their full inventory, and not just a few rooms. We invest heavily in technology, analytics, quality control and staff training to help our hotel partners," said Sidharth Gupta, co-founder, Treebo.
Last year, Treebo was a distant third to biggest rival OYO Rooms, which secured $100 million in funding from Soft-Bank and deep-pocketed New York-based firm Tiger Global invested in ZO Rooms with a promise of more.
Also read-