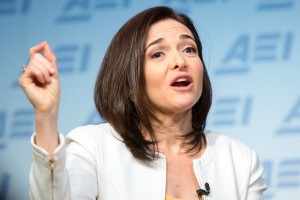 23 June 2016, USA :
Facebook Chief Operating Officer Sheryl Sandberg announced the company added a "political bias" component to its already-existing unconscious bias training at the American Enterprise Institute Wednesday, which was broadcast live on Facebook.
"We have a managing bias class that all of our leaders and a lot of our employees have taken that I was part of helping to create. And we focused on racial bias, age bias, gender bias, national bias, and we're going to add in a scenario now on political bias," Sandberg said. "So as we think about helping people understand different points of view and being open to different points of view, we're dealing with political bias as well going forward."
At a time when publishers of all ideological perspectives use Facebook as a distribution platform, Brooks pressed Sandberg on the company's role in the dissemination of news. But Sandberg dismissed the notion that Facebook wanted to be a media company.
"We're a tech company. We're not a media company," she said. "We're not trying to hire journalists, and we're not trying to write news."
She further added, "Facebook is a platform for all ideas and all voices. We have 1.6 billion people using the platform, which means all ideas have to be able to be expressed."
Also Read-