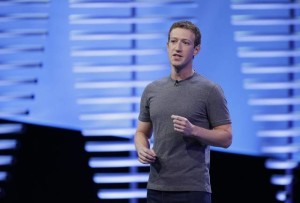 June 21, 2016:  Facebook held its annual shareholder's meeting on monday and it  has approved the creation of 5.7 billion new shares of Class C stock that will keep its CEO Mark Zuckerberg in control as long as he is associated with the social networking giant.
The decision will help Zuckerberg keep voting control and allow him and his wife Dr Priscilla Chan to boost philanthropic activities without diluting the voting control, venturebeat.com reported. Zuckerberg has said he will be giving away 99 percent of his family's shares to various initiatives to promote more equality in the world.
Declaring the "Chan Zuckerberg Initiative" as they welcomed their first girl child Maxima Chan Zuckerberg or "Max", the couple said they have created a new foundation that would initially focus on "personalised learning, curing disease, connecting people and building strong communities."
It also re-elected its Board of Directors, including investors Marc Andreessen and Peter Thiel. Among the list of things set to be discussed include a proposal to issue Class C non-voting capital stock which Facebook announced in its last quarterly earnings.
"I am planning on running the company for a very long time," Zuckerberg told the members during the question and answer session of the meeting.
The move gives current shareholders a 3 for 1 stock split according to the fortune report.
"It means for every share of Class A or B stock an investor owns, Facebook will offer them two Class C shares as a one-time dividend. Class C stock does not come with shareholder voting power," the report added.
Zuckerberg owns about four million of Class A shares in Facebook and approximately 419 million Class B shares.
Each Class B share is worth 10 votes apiece which gives Zuckerberg majority voting power and control over Facebook's strategic direction. Facebook currently has over 1.6 billion monthly active users.
Also Read: Peter Thiel Reelected To Facebook's Board Of Directors  
Telepathic Conversation a Decade Away : Mark Zuckerberg