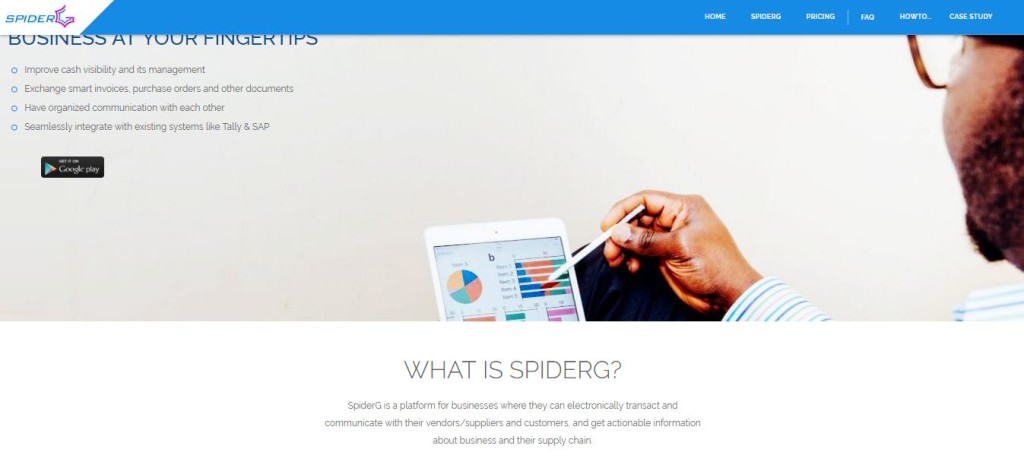 23 Jun. 16, PUNE: the company behind e-invoicing start-up SpiderG – Gladiris Technologies raised undisclosed amount of capital in seed funding round from its investors – Rahul Kirloskar (chairman at Kirloskar Pneumatic), Fusion Tech Ventures, Adi Saravanan (Founder of Allsec Technologies), Pravin Dongre, (CEO at Glencore Grain India) and Mahendra Doshi from LPK Securities.
The company plans to use the fresh capital to strengthen its existing products, scale-up to 2000 customers in next three months from its existing 380 customers.
According to sources and reports by ET, co-founder of Gladaris – Ashwani Rathore said "investments have been made by them in their individual capacity. SpiderG enables businesses to electronically transact and communicate with their vendors and suppliers, as well as keep track of other transaction data."
Commenting from investor's point of view, Adi Sarvanan, president at Allsec Technologies said, "The SpiderG team has a varied and in-depth experience. I am impressed with what SpiderG has achieved in a short span of time with a very low cash burn. It is good to see companies like this building innovative products for the global market."
SpiderG has been developed by Gladiris Technologies Pvt. Ltd. and was founded in 2013 to cater to Enterprise Resource Planning (ERP) software needs of small & medium scale companies.
Also Read: 5 Reasons Why Your Startup Needs An ERP Software !
Will Technology Make Or Break An E-commerce Enterprise ?
Comments
comments