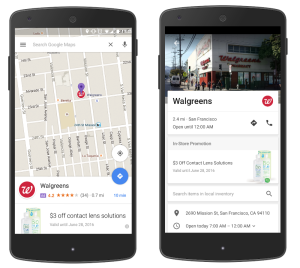 24 May 2016, USA :
Google is releasing new advertising products and services to take advantage of the way people use their smartphones to search for items, then often buy in nearby stores rather than online.
Google said it now handles trillions of searches a year, with more than half coming from mobile devices. About one-third of its searches on mobile are location-specific. The new products, which include more detailed text advertisements, additions to Google Maps, and new ways to buy ads, were announced Tuesday by the Alphabet Inc. subsidiary at the Google Performance Summit in San Francisco.
Google ads and commerce SVP Sridhar Ramaswamy remarked: "It is very clear to all the advertisers we speak with that mobile is here, it is really the mainstream." The executive added that some advertisers pay more for Google's mobile ads compared to its desktop ones, as the focus of the company's $40 billion-per-annum business tilts toward mobile phones.
The ads are still in the experimental phase and, like it does with all new ads, the company is taking pains to limit the number it accepts to avoid overwhelming users.
The ads won't figure into the spoken navigation directions on the app — at least not yet. Jerry Dischler, VP, Product Management at Google said, he wouldn't rule out such an audio ad placement in the future.
Along with bringing ads to Maps, the company is also increasing the amount of copy on text ads across both desktop and mobile. The expanded text ads in AdWords will allow marketers to have more ad space to display information about products and services before a user clicks.