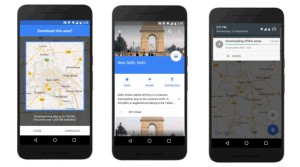 25 July 2016, USA :
Google is rolling out several changes to Google Maps that make the mobile navigation tool more useful. In addition to a new data-saving WiFi mode, Maps gains the ability to set specific alerts for mass transit delays.
If your Maps app has received the WiFi only mode setting, you will be able to access it by opening the Settings screen and looking for a new toggle on the second line with the title, "Wi-Fi only."
So it works like this- If it's there, you're set to go offline. This line used to be titled "offline areas," and it still provides a link to the same screen if you tap the description, but it has been augmented with the new title and the switch. Just be aware that tapping the title or switch will effectively cut maps off from cellular data, and tapping anywhere on the description will open the configuration screen for offline areas.
According to the report, Google is also working on a new feature for Google Maps that will notify users in case of mass transit delays. The notifications can be customised for the mode of transport that you use. It is, however, unclear if Google will actually roll out the update anytime soon or at all.
Also Read-