26 July 2016, USA :
Microsoft is making life easier! The company is releasing a new set of cloud-powered intelligent services in Office apps designed to save you time and produce better results. These features help you improve your writing in Word, deliver dynamic presentations in PowerPoint and prioritize the emails that matter most to you in Outlook. Take a look at this video!


Introducing Researcher—accessing credible sources and cited content just got easier
'Researcher' is a new service in Word that helps you find and incorporate reliable sources and content for your paper in fewer steps. Right within your Word document you can explore material related to your topic and add it—and its properly-formatted citation—in one click.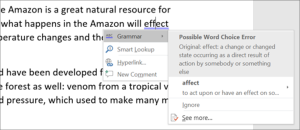 Editor—your new digital writing assistant
While Researcher helps you start a paper, 'Editor' assists you with the finishing touches by providing an advanced proofing and editing service. Leveraging machine learning and natural language processing—mixed with input from Microsoft team of linguists—Editor makes suggestions to help you improve your writing.


Focus on what matters in Outlook with Focused Inbox and @mentions
Two updates to Outlook this month help you work smarter and take control of your email. Customers love using Focused Inbox in Outlook on iOS and Android. Now we're rolling it out to Outlook on Windows, Mac and Outlook on the web. Focused Inbox helps you focus on the emails that matter most to you, as it automatically separates your inbox into two tabs. Emails that matter most to you are in the "Focused" tab, while the rest remain easily accessible—but out of the way in the "Other" tab.
The continued evolution of PowerPoint—introducing Zoom
Zoom, which lets you easily create interactive, non-linear presentations. Captivate your audience with smooth, effortless navigation in and out of any slide or section, starting from a single interactive summary slide. Present your slides in whatever order makes sense based on your audience, without exiting slide show mode and interrupting the flow. Office Insiders using PowerPoint 2016 on Windows desktops can now incorporate Zoom in three easy ways to build summary slides, depending on the depth of content and your use of sections.
Also Read-
Comments
comments