27 March 2016 : It began as a crowdfunding campaign on Kickstarter, with the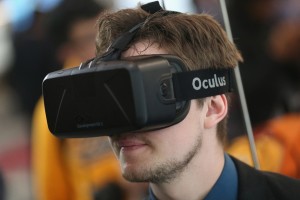 aim of raising $250,000, and ended up being acquired by Facebook for $2 billion. Now Oculus VR has finally begun shipment of its Oculus Rift virtual reality headsets.
Taking to Twitter today, Oculus chief executive Brendan Iribe announced the company has officially started to ship the headsets.
"The first Oculus Rift has shipped, deliveries begin Monday," he tweeted.
The Rift headset bundle will ship with games such as EVE: Valkyrie and Lucky's Tale for $599.
Oculus VR launched its Kickstarter campaign on 1st August 2012, seeking to raise $250,000 to develop a groundbreaking virtual reality headset. It smashed past this target, raising $2.4 million from more than 9,500 backers. Two years later, Facebook shelled out $2 billion to buy the company,
"This partnership is one of the most important moments for virtual reality: it gives us the best shot at truly changing the world," the company said in an update on its Kickstarter page at the time of the Facebook acquisition.
Facebook founder Mark Zuckerberg has compared the first year of Oculus with the first year of smartphones, when the BlackBerry and Palm Treo debuted.
Mr Zuckerberg said he expects the virtual reality headgear to start being popular among hardcore gamers, and spread from there.
Market research firm MarketsandMarkets has estimated the market for virtual reality products is projected to reach almost $16 billion by 2020.
IMAGE :siliconbeat
Comments
comments