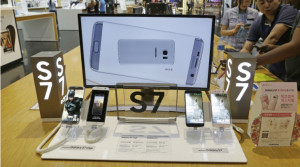 28 July 2016, USA :
Samsung Electronics Co. reported second-quarter profit that beat analysts' estimates, fueled by stronger sales for Galaxy S7 smartphones and aggressive cost cuts, Bloomberg reports.
Net income, excluding minority interests, was 5.83 trillion won (US$5.1 billion) in the April to June period, the Suwon, South Korea-based company said in a filing on Thursday. That compares with the 5.64 trillion won average of estimates compiled by Bloomberg.
Samsung's mobile division saw its operating profit jump 57% in the second quarter from a year earlier to 4.32 trillion won. Operating profit margin from the division rose to 16.3%, its highest level in more than two years, thanks to cost-cutting and strong demand for its premium handsets.
But operating profit for the company's components business fell 28% from a year earlier in the second quarter, hit by a fall in the selling prices of chips and display panels.
The company said that it expects component sales to pick up steam in the coming months, and is planning to ramp up investment in organic light-emitting diode panels and NAND flash-memory chips, citing "strong market demand" for the two products.
Samsung also said Thursday that it would buy back 1.8 trillion won in shares over the next three months to round out a $10 billion share buyback program that the company first announced in October last year
Samsung will unveil its next-generation Note device with larger displays on Aug. 2 in New York, Brazil and in London, the company said. While the company is finalizing its capital spending plans, it expects a slight increase from the year earlier.