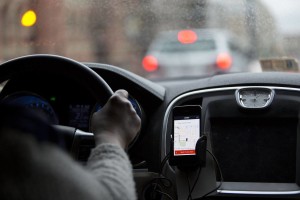 29 June 2016, USA :
Uber is rolling out new software on its app for drivers in dozens of cities for a test phase this week, which uses sensors in drivers' phones to report back to the mothership, the company announced.
"It might be that a driver is unhappy about an unruly rider. Or a rider is worried that her driver was going too fast," wrote Uber's Chief Security Officer Joe Sullivan on its website. "Either way, we need to check what actually happened. Mostly it's about talking to both sides. But increasingly technology can help get to the truth."
The next time your Uber driver takes a turn too fast or slams the brakes at the last second, Uber will know. The company says driver behavior will start to be tracked through its app soon.
Starting Friday, drivers in at least nine U.S. cities including New York, Los Angeles and Chicago will be shown a summary of how smooth their driving was for each trip, including separate scores for acceleration and braking and a map highlighting the physical location of each incident. Any time drivers go over the speed limit, Uber will alert them within its app in real time.
The new tracking features could give Uber and its drivers a better understanding as to why some trips are rated poorly. An Uber representative said the pilot program is still in its early stages, and the data gathered from the program alone would not be used to remove a potentially dangerous driver from Uber's platform. The new features may also invite driver privacy concerns.
Also Read- Uber Rolls Out Upfront Fares In India, US