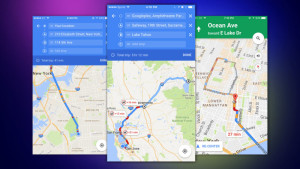 30 July 2016, USA :
So if you're confused on your way to long trip or vacation between point A to point B, remember there's always a point C!  Yes, Now iOS can have access to multiple location on the latest update of Google Maps.
It's way to easy to add point, you just have to add location and it'll be your point C! In other words, Just open the app, tap the corner menu, and click "Add stop." You can rearrange the order of stops by clicking on the three lines next to one and then dragging it!
Google recently updated Maps with a new design. It made some visual changes to the service on desktop, Android and iOS. It has removed any information that it believes isn't necessary, such as road traffic outlines, enabling users to find what they need more easily.
The new Maps has a better colour scheme to help users quickly locate important places such as hospitals, schools or highways.