In order to capitalize on a USD 1.2 billion agreement for the Haifa port, Indian tycoon Gautam Adani's ports-to-energy company will establish an artificial intelligence lab in Tel Aviv.
At the signing of the contract to acquire Haifa Port in Israel, Adani, whose financial empire was shaken by claims of deception by US short-seller Hindenburg Research, spoke about investment potential with Israeli Prime Minister Benjamin Netanyahu.
He did not speak of the issue, which has already damaged his group's assets by almost USD 70 billion in total value.
The 60-year-old Adani claimed that his firm will also build estate at the port to modify the Haifa skyline.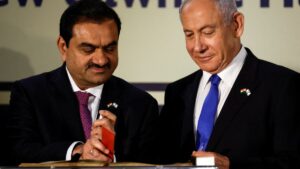 "We have initiated several dozen technology relationships wherein we have offered the entire Adani portfolio of companies to be a giant sandbox for us to learn together," he said in his speech. "We are also in the process of setting up an Artificial Intelligence lab in Tel Aviv which will work in close collaboration with our new AI labs in India and US."
Adani Group has established various vital connections over the past six years with firms like Elbit Systems, Israel Weapon Systems, and the Israel Innovation Authority.
In July of the previous year, Adani Ports & Special Economic Zone Ltd. secured the Israeli govt's auction to purchase the Haifa Port, a significant commercial center on Israel's Mediterranean coast, for around USD 1.2 billion in cooperation with local chemicals and logistics business Gadot.
"The acquisition of the Haifa port also comes with a significant amount of real estate. And I promise you that in the years to come we will transform the skyline we see around us," Adani, the founder, and chairman of the group, said.
"The Haifa of tomorrow – will look very different from the Haifa that you see today. With your support – we will deliver on this commitment and do our part to transform this city." He expressed confidence in transforming the entire port landscape.
"We realize that there will be competition from others, but our confidence comes from our belief in the people of Israel and therefore our belief in the Israel Growth story." "Our intention is to make the right set of investments that will not just make the Adani Gadot partnership proud but will make the whole of Israel proud," he said.
He stated that the Israeli mentality is what makes all the difference, and added that his organization hopes to cooperate with nearby universities like the University of Haifa in order to take advantage of the rich technology talent present in this region.
According to Adani, the connection between India and Israel began on September 23, 1918, when troops from the Indian cities of Mysore, Hyderabad, and Jodhpur fought together for Haifa's freedom.
"And earlier today, I had an opportunity to visit the cemetery where our soldiers were put to rest. It was a moving moment for me to reflect on the fact that the port we now share – is part of the same city – where soldiers from both our countries – fought side by side for the ultimate shared cause that we all call — Freedom," he said.
He went on to state that Israel has always motivated him. "You have rewritten the rules of what a country with a population of less than ten million can achieve. You have rewritten the rules by proving what a country with very few natural resources can achieve. And you have rewritten the rules by showcasing what a country with self-belief can achieve."
The elasticity of Israel makes it the world's most resilient nation. "Your pace of innovation across multiple sectors amazes me. Your drive for innovation makes me wonder how we can learn from you. You have focused on sustainable growth far before the world was talking about sustainability," he said. PTI ANZ MR