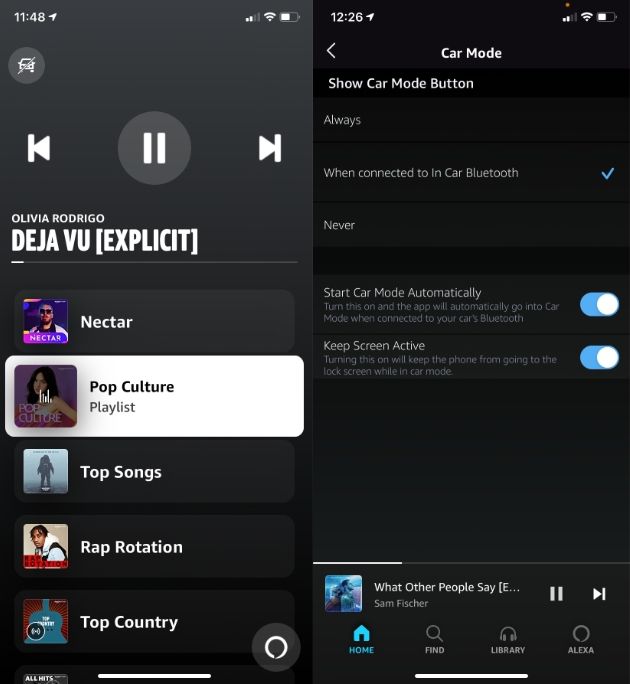 "Hey, Alexa! Update to Car mode" has officially been said by Amazon as it announces the new Car Mode for Amazon Music that will automatically enable while one is driving. This tiny update brings in a lot of functionality and convenience for users when they are on the road. This recently added feature by Amazon is somewhat exactly as same as Amazon Music's mobile application with only bigger texts, bigger fonts and convenient usage while one is driving.
It is annoying when one has to pick up their smartphones to change the song every ten seconds until their jam comes up. Amazon thinks about user's safety while they are driving and vibing on the road with Amazon Music's killer playlist (not literally) and that is exactly why they have added this new feature called 'Car Mode'.
As mentioned in a report by The Verge, once you have the new Car mode enabled on your smartphones, you will see two sections. The top section consists of your playback controls with large fonts so that you can easily Play, Pause or Skip tracks, while the bottom sections consist of suggestions, featuring a collection of suggested music that you may scroll, browse or simply tap to play.
Furthermore, it is not just Amazon Music Car Play, if you want a better experience or a 'hands-free' experience, call out for your favourite assistant, "Hey Alexa!" followed by your favourite playlist or song or artist of choice. Users can also enable Alexa by tapping on the bottom right corner of the screen on Amazon Car Mode.
Amazon is certainly not the first company to think of this brilliant functionality, Spotify also activates Car Play Mode as soon it recognises a user's device is connected to car Bluetooth, similarly, Amazon Car Play follows the same functionality for a better user experience. Amazon Music Car Play does not add any new features to the music application, but definitely adds a better User Interface, made especially for users when they are driving, to minimise distractions. As mentioned in multiple reports, users who own an old car that does not support smartphone connectivity, also have an option to enable Car Mode from settings.
According to a report by The Verge, Amazon Music has close to 55 million active users which is phenomenal. Amazon Music must not have the same level of popularity as Apple Music or Spotify, but it surely is thriving ahead with its features and functionality. Amazon Music Car Mode is now officially available for iPhone users and Android users as well. Drive Safe!