CEO Andy Jassy released a statement on Friday ordering Amazon company employees to spend an average of three days every week at work.
It means a change from Amazon's earlier policy, which gave individual managers the flexibility to choose how regularly their members of staff would be ordered to work from the workplace.
Staff ought to be in the workplace "the majority of the time" (at least three days a week), according to Jassy. This choice was made at a previous meeting this week among the S-team, a close-knit team of top management from almost all sections of Amazon's business.
They chose the option after concluding that it would enhance the work environment and employees' abilities to share knowledge and work collaboratively.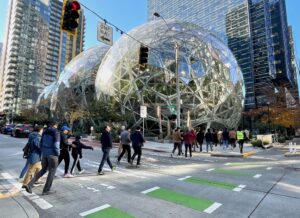 On May 1, Amazon intends to put the move into action. There will be a few exceptions to the rule, as per Jassy, notably jobs that allow for working remotely in customer service.
"It's not simple to bring many thousands of employees back to our offices around the world, so we're going to give the teams that need to do that work some time to develop a plan," Jassy said.
"We know that it won't be perfect at first, but the office experience will steadily improve over the coming months (and years) as our real estate and facilities teams smooth out the wrinkles, and ultimately keep evolving how we want our offices to be set up to capture the new ways we want to work."
As the Covid-19 epidemic has faded, numerous firms have recently called their workers to return to work whether full-time or even several days per week.
Over the last year, Google, Apple, and some of their workers have been forced to report to work, while Disney starting in January, hybrid workers had to work 4 days per week.
In an effort to tighten its belt in the face of falling sales and a gloomy outlook for the economy, Amazon is asking for its workers to be in the workplace more often.
In addition to a corporate hiring freeze, Amazon started the biggest downsizing in its existence, impacting around 18,000 employees. Furthermore, it has discontinued a few experimental programs.
One advantage of going back to work, according to Jassy, would be that workers will be given more chances to brainstorm and workshop concepts.
"A lesser-known fact is that some of the best inventions have had their breakthrough moments from people staying behind in a meeting and working through ideas on a whiteboard, or walking back to an office together on the way back from the meeting, or just popping by a teammate's office later that day with another thought," he added.
Comments
comments