A German media authority stated on Friday that it would examine allegations that CEO Elon Musk's posts were given unfair attention on Twitter.
C onsidering a press revelation that Musk's posts had been modified to show more frequently in timelines, the Bavarian agency BLM issued its judgement.
The wealthy owner of Twitter reportedly warned to dismiss programmers if they did not modify the algorithm to enhance the reach of his posts among followers, according to the US tech site Platformer.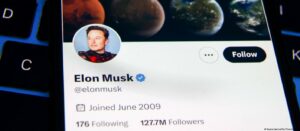 The cause, according to reports, was the fact that US President Joe Biden's tweet about the Super Bowl finale was seen much more frequently than Musk's post about it.
Twitter could face a penalty in Germany:
BLM stated that Twitter may be punished if it breaches Germany's media code, which is designed to avoid problems like election tampering.
"In the event of a possible manipulation of the algorithm, the state media treaty — which prohibits discrimination and is intended to prevent the deliberate prioritization of certain journalistic-editorial content — will be triggered," said BLM President Thorsten Schmiege.
"Twitter is of enormous importance, especially for political communication. Ensuring diversity of opinion and thus also a free democratic dialogue is a task that the regulators take very seriously in view of the power of media intermediaries to influence opinion."
Musk hits back at media report:
Elon disputed Friday's allegations that the visibility of his tweets had been deliberately increased.
"Several major media sources incorrectly reported that my Tweets were boosted above normal levels earlier this week. A review of my tweet likes & views over the past 6 months, especially as a ratio of followers, shows this to be false," he wrote.
"We did have a bug that briefly caused replies to have the same prominence as primary Tweets, but that has now been fixed," he said.
Twitter users have the choice of having their feeds presented either automatically or in chronological order.
Many individuals claimed this week that Musk's response tweets sometimes predominated the computer-generated choices.
Musk's ownership mired in controversy:
Despite taking over Twitter in October, Musk has repeatedly engaged in political affairs and instructed the company to revive the profiles of controversial personalities who had been eventually banned, such as previous US President Donald Trump.
He criticised the US Democratic Party, among many other things, and recommended holding UN-supervised elections to decide whether inhabitants of Ukrainian territory that Russia had illegally invaded desired to remain a component of Ukraine or Russia.
Elon received a warning from the European Union to preserve safety precautions and content moderation in conformity with the standards of the bloc after he fired approximately half of Twitter's workforce.