Apple has been granted a new patent that shows the company is considering adding a display to the AirPods case. This feature could allow users to view information such as battery life and song titles without having to take out their AirPods.
Apple innovates with AirPods case display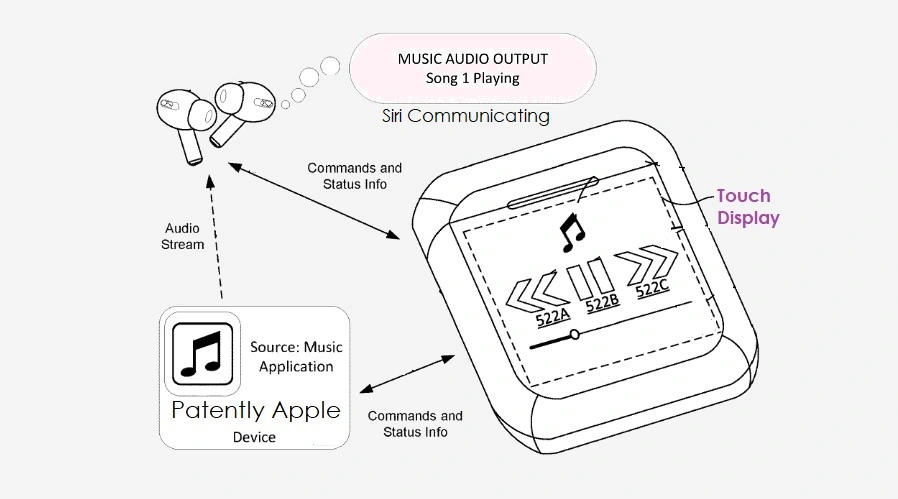 According to the patent, the AirPods case display could show a wide range of information, including the charging status of the AirPods and the case, battery life, volume levels, and even the song or podcast that is currently playing.
The patent also suggests that the display could be touch-sensitive, allowing users to interact with it in various ways, such as skipping songs, adjusting the volume, and even accessing Siri without having to take out their AirPods.
This new patent follows Apple's recent release of the AirPods 3, which features an updated design and improved sound quality. It's unclear if this display feature will be included in future versions of the AirPods or if it will remain just a patent idea.
However, if implemented, this feature could make AirPods even more convenient for users who want to quickly check their battery life or skip songs without having to take out their AirPods.
It's also worth noting that this is not the first time Apple has considered adding a display to the AirPods case. In 2018, the company filed a similar patent that suggested the case could have a touch display and the ability to receive and send messages.
While there's no guarantee that this feature will become a reality anytime soon, it's exciting to see that Apple is still innovating and exploring new ways to improve their products.
As with all patents, it's important to keep in mind that they do not necessarily indicate what features will be implemented in future products. However, this new patent does give us a glimpse into what Apple is considering for the future of the AirPods.
Conclusion
In conclusion, Apple's latest patent for an AirPods case display could potentially bring a new level of convenience and functionality to the popular wireless earbuds. With the ability to display battery life and other important information directly on the case, users may no longer have to rely solely on their connected devices to keep track of important data. While it's unclear if and when this technology will make it to market, it's exciting to see Apple continuing to innovate and push the boundaries of what's possible in the world of technology.