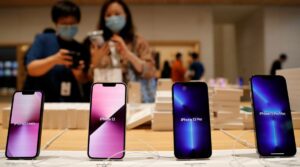 Reports from the Nikkei newspaper on Monday, March 28, stated the latest plans of Apple Inc. regarding its productions. The tech giant is planning to lower the production of its iPhone and AirPod owing to a slowdown in demand. The drop appears to be a result of the elevating crisis in Ukraine, along with rising inflation.
The tech company's plans include lowering the production of iPhone SE in the next quarter. The reduction would be of producing 20% fewer of those, that is about 2 to 3 million units. Additionally, Apple has lowered the orders for AirPods in 2022 by over 10 million units. Notably, he company's shares were already down 2% in the premarket reading.
Analysts had previously given a warning about present circumstances eventually impacting the demand for smartphones this year. These circumstances refer to lockdowns in China due to the pandemic, along with a rise in inflation owing to the war in Ukraine. Apple Inc. citing lowering demand for its decision reflects this warning from the analysts.
Related issues:
Currently, Apple is already facing visible challenges related to its latest iPhone SE model. It is witnessing a lot of criticism and challenges for its surprising lack of design upgrade for the new model compared to the previous one. Despite the unsatisfactory upgrade, the price of the model is $30 more from the 2020 model.
On Monday, TF International Securities' Ming-Chi Kuo slashed the estimate of the shipment of iPhone SE this year. From 25 million to 30 million units, he slashed it to between 15 million and 20 million units. This comes forward as only one of the estimates of how much will the production drop this year.
Eddie Han, an analyst at the Isaiah Research, based in Taiwan, cut his forecast sales for this model of the iPhone by 5 million units. He specified how this model from 2022 is identical from its model from 2020. That model, itself, looked like a "second refurbishment" of the Apple's iPhone 8. Further on, he mentioned that due to the issues surrounding this, it is "even less likely" to generate demand from the customers. Visibly, other than the A15 processor chip, users could not detect any such prominent upgrade on 2022 model as compared to the 2020 one. From its camera features, to its touch ID system, it appears highly similar to its 2020 version.
On the other hand, Apple Inc is reportedly set to launch a whole new lineup of iPhones later on in 2022. However, analysts went on to remark that it was too early to predict whether this decision would have any effect on the upcoming range.