How it all started-
Indian Fowler's medium post
Fowler, yes that was the name of an employee- Susan Fowler who faced sexual harassment in the company Uber. Anyway, here- the anonymous writer writes her heart out on how she was molested by TVF Founder Arunabh Kumar.
Day 21- I am abruptly called by Arunabh at 6.45 PM. I am in the local back towards my home. He demands I come back to office. Apparently i have not finished some part of my work. I reluctantly come back. There are 3 people in office. 2 of them leave withing 5 minutes of me coming in. And Arunabh is sitting on a Chair in a casual manner. I walk up to him. He looks at me and asks me — " Chaturbhuj Sthan ka naam suni ho"? I am stunned. For Non Starters, Chaturbhuj Sthan is the Red Light District of Muzaffarpur. I didnt respond. His second question- "Humko Chaturbhuj Sthan Bahut Pasand Hai. Udhar commercial deals hoti hain. Tum Bhi to commercial deal pe aayi ho". I was getting where he was leading the discussion to. I avoided an interaction. I said "Arunabh, aap bade bhai hain. Meri tabiyat thodi theek nahi hai. Kya karna hai bataiye. Hum karke ghar jaayenge" He suddenly holds my hand. Says "Madam, thoda role play karein". I was stunned. None of this was something i had ever asked for. I ran away. Locked myself in the toilet. And cried. He went away. But i was thinking why the hell he is after me? What did i do to make this happen to me. That was the longest night of my life.
TVF was quick to respond and stated, "All the allegations made against TVF and its team in the article are categorically false, baseless and unverified. We take a lot of pride in our team and in making TVF a safe workplace that is equally comfortable for women and men. We will leave no stone unturned to find the author of the article and bring them to severe justice for making such false allegations," the statement read.
After the Indian Fowler post, many ladies stepped up saying the too faced the similar incident.
Reema Sengupta who directed a show for TVF last year came forward in support of Indian Fowler and said she too was a victim of Arunabh Kumar.
Rafiya Khan, Casting Director too showed courage and talked about her experience.

There was one more guy Vaibhav Singh, who stated that Arunabh Kumar during his speech was offensive and had no sense about his speech.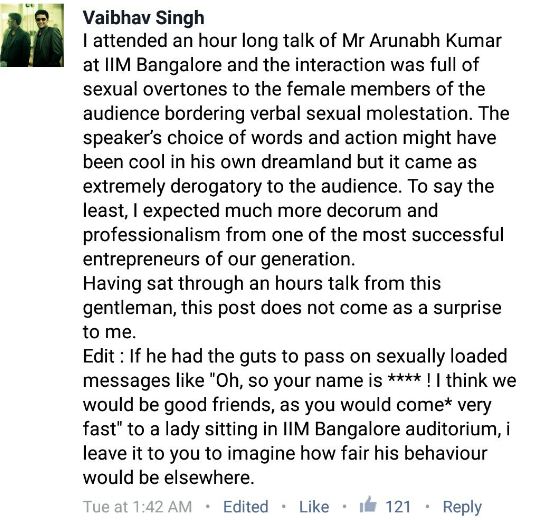 One of Kumar's batchmate too faced the similar behavior.

Nidhi Bisht, Actress, Writer and casting Director, TVF said, "Personally, I've felt that TVF is one of the best places for women to work. I've only been treated with respect and dignity at TVF in general and by Arunabh in particular. Of course that doesn't mean everyone will share the same experience."
"When the first blog post came out 24 hours back, I dismissed it completely because there was no such person of that description in the company at that time. Just to be sure, I checked with a few colleagues and there is no record for such a person ever existing. Hence the accusations on the blog post are completely baseless.
Subsequently, a few more Posts have started coming out on social media regarding misconduct on Arunabh's part. I am as shocked as you guys are."
"Let me clarify, that TVF has zero tolerance towards workplace harassment and an investigation will be conducted and appropriate actions will be taken. We have a Prevention of Sexual Harassment committee, backed by Legal and HR which deals with such issues.
In my last tweet, I was only expressing my personal opinions. And I have a right to my perspective, just like everyone. I would request women to come forward, without fear and lodge a formal complaint. Be rest assured, that due actions will be taken and we'll get to the bottom of the issue."
Here's what Arunabh Kumar told Mumbai Mirror:
"The kind of insinuations the FB post makes are untrue. I am a heterosexual, single man and when I find a woman sexy, I tell her she's sexy. I compliment women. Is that wrong? Having said that, I am very particular about my behavior – I will approach a woman, but never force myself."
Meanwhile, a Mumbai-based lawyer Rizwan Siddiqui has filed a third party FIR against Arunabh Kumar as the women who have alleged harassment have not made any formal complaints. "In these kind of cases, not a lot of women want to come forward and take any kind of action because they are so scared and worried about their name and reputation… So I also came forward," says Siddiqui.
Taapsi Pannu who was critically acclaimed for her role in the movie 'Pink' chose not to draw a conclusion yet. She said while speaking to Hindustan Times, "When I heard about this, I picked up the phone to speak to some people at TVF. But I have been hearing completely opposite stories. It's very confusing. But there are some women who have come out in the open with their names, alleging harassment. It is difficult to believe that someone would lie about being molested, especially when their identities and backgrounds are out in the open. I have told my friends who work there to keep me updated. There are too many stories doing the rounds and at this point, it's very difficult for me to form an opinion."
Founded in 2010 by Arunabh Kumar, TVF- The Viral Fever is an online digital entertainment channel. The company shot to fame after two successful web series Permanent Roommates and TVF Pitchers.
Read the full Medium post by Indian Fowler here. (Cover image- NDTV/ TVF)
Comments
comments