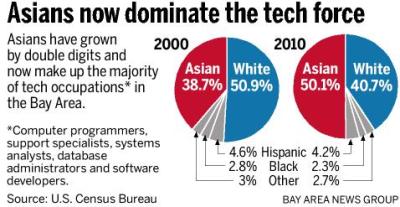 9 February, 2016, USA: According to the latest survey at the Silicon Valley and neighbourhood, Asians have come out as a dominating community of workers in the San Francisco Bay Area's tech force. On the other hand, the native white workers' population is declining constantly.
It clearly indicates that the demand of Asian workers in tech jobs  is on the higher side. "It's the new world, a world in which whites are not the majority. Other people are being displaced," said Jan English-Lueck, associate dean of the college of social sciences at San Jose State University, who is also co-founder of the Silicon Valley Cultures Project.
The graph suggests that there has been a constant growth in Asian tech workers' population. It exploded from 39 per cent in year 2000 to more than 50 per cent in 2010 in Santa Clara, San Mateo, Alameda, Contra Costa and San Francisco counties combined, according to Census Bureau statistics.
The scenario is not same for white people. The white tech workers' population is declining quite alarmingly. If one goes by the statistics, their majority decline from 50 per cent to nearly 41 per cent in tech jobs.
"We do not want to employ Americans. They import labor from overseas, pushing for H-1B visas. Check the job boards. They basically say, 'H-1B Visa. Americans need not apply.' For years, women, blacks and Latinos have been kept out of the tech job market. Now white men are being forced to train their replacements," opined Yolanda Lewis, President and CEO of the Oakland-based Black Economic Council.
Image-Bay Area News Group
Comments
comments