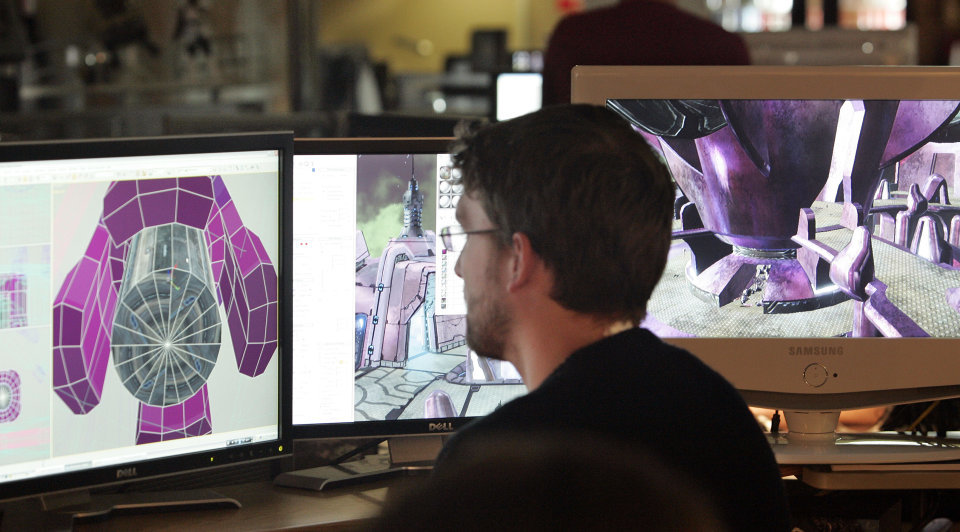 Historically, a lot of gaming studios in India have played the role of outsourcing centers for western publishers creating art assets and animation, but not carrying out full production themselves. More recently, game developers have ventured into making good quality games targeted towards western countries owing to better monetization opportunities both from in-game ads and in-app purchases. Various ad tech company estimates peg eCPM (effective cost per thousand impressions) rates in India at 1/5th of that of developed countries. Poor local market monetization opportunities, fragmented distribution, lack of equity funding, limited government support and weak business models are some of the reasons why Indian game developer's pursue less risky routes of either working for hire for large global game developers or making games targeted towards western developed countries.
The Indian gaming market, however, is changing and evolving rapidly. Various market estimates say that the Indian smartphone market is at about 300+ million devices, which makes it the 2nd largest smartphone user base after China. This tremendous growth in numbers and the evolution of the device itself from a calling and messaging device to a full-fledged media consumption and utility powerhouse; is providing the necessary impetus that the Indian gaming market was awaiting. Access to affordable mobile devices in the sub Rs.5,000/- or sub Rs.10,000/- categories have dramatically increased the number of Indian mobile gamers. A recent estimate by Mauj Mobile, defining mobile gamers as those who play mobile games at least once a month, estimates that such gamers range between 50-60 million in the country.
While the opportunities are plenty, the biggest challenge facing Indian game developers is the low monetization opportunities. The average mobile prepaid/postpaid spends are at the lower end of the spectrum with nearly 50% of the gamers spending up to Rs. 200 per month and nearly 30% gamers spending anywhere between Rs. 200 – Rs. 500 per month.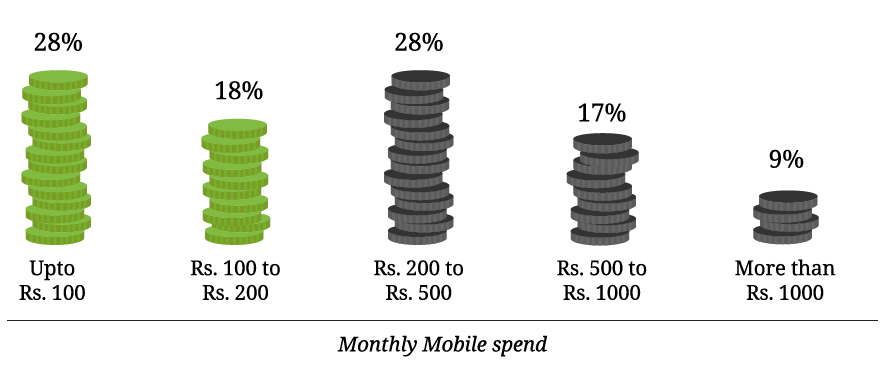 Indian gaming studios are only as good as their last game, which in itself is a huge risk and doesn't allow for game developers to invest heavily on high-quality games which require higher investments in terms of time and money. Developers mitigate this risk by having their feet in both camps where they are funding the basic studio through work for hire contracts and then retaining profits to build up a portfolio for games.
There is an extraordinary arc of opportunities now, from the graphically intense cinematic Hollywood style games like Grand Theft Auto, Destiny and Tomb Raider which cost upwards of  10s of millions of dollars to produce, down to the small one or two person micro-studios generating lots of games, serving these games on the app stores, and seeing which have traction. Indian game developers like Timuz and Under Dogs gaming studios to name a few, are good examples of Indian game developers who have made their mark on the app stores and generated high volumes for their games. A recent report by App Annie published in November 2016, predicts the Indian gaming industry to touch $ 1.1 Billion by 2020.
Some of the difficulties game developers in India face and how they can overcome the challenges are illustrated below:
1. Quality of Games
As discussed, the Indian game developer's approach to game development includes funding the basic studio through work-for-hire contracts and then using the profits to build up a portfolio for games. These games are then primed for monetization from the more lucrative western countries. However, the Indian gaming industry should focus on the three most important pillars of making a game: gameplay, gameplay and gameplay. Making great games targeted towards the Indian gaming audience with a strong focus on game retention is the key to being successful. The longer the gamer plays your game (longer game retention), the higher will be the opportunities for developers to monetize.
Best in class game on-boarding: making great games without supporting game on-boarding experience is a recipe for failure. Ensure the game is built to simplify the gaming experience in the first few sessions on the game. Take the gamer through the story board, gameplay, special powers, level, etc., and ensure that the game-play is built to ease the user into the game. Not too fast and not too slow, get your game on-boarding right.
Hints, tips & level skips: More often than not, the biggest reason to uninstall a game is when the gamer is stuck on a level for too long. Build your gameplay in such a way that the gamer is given enough tips, hints to cross a level and build in a level skip if a gamer is stuck on to a level for too long.
Environmental cognizance: India is a market where a lot of gaming happens while commuting, in office, at schools and at home. If your game is targeted towards students and first jobbers, keep in mind that the game will be played a lot while commuting and hence make your game orientation vertical to ensure one-handed game play.
Neglecting core game development:

Game developers tend to focus more on how to monetize their games, this eventually proves detrimental as they are unable to improve upon or add new features to the game – those that may help increase its sale and marketability.
Focus on product metrics and learn how your game is being played. Use free and powerful tools like Google Analytics and Unity analytics to get a clear analytical understanding of your game and refine your game based on the key gameplay metrics.
Most products are built iteratively and games are no different. Continue to refine your game and you are sure to see improved game retention, a key to high monetization.
2. Distribution
App stores have inherently become over crowded, an average of 792 games are submitted per day. This makes getting featured on the app stores critical for game success.
Look for alternate app stores outside of Google Play and Apple's App Store for game distribution. A recent survey by Mauj mobile estimated 53% of game downloads happening outside of Google Play (these numbers includes peer-to-peer game transfer through shareIt, Xender, etc.)
Having strong relations with Google and Apple teams may be a big challenge for indie game developers and hence they should look out for publishing opportunities from strong game publishers. Their inherent relation with app stores and marketing muscle can get your game great traction.
3. Funding Challenge
To compete with the best in the world on quality, game developers and studios need to have best of technologies and resources at their disposal.
Finding enough funding and convincing those who fund to contribute to quality game products has been a constant challenge for game developers in India.
With only a handful of game developers getting VC or equity funding, Indian game developers should look at alternate funding opportunities available through publishers which offer a strong revenue share model.
4. Payment infrastructure
Credit card penetration is below 5% and most Indian gamers do not have credit cards, but recently other cashless options like carrier billing and payment wallets such as Paytm, Freecharge have seen an increased uptake with higher smart phone penetration.
Operator billing is a one-click payment option which Indian mobile game developers should consider integrating. They can also work with large D2C players in the market.
With improvements in payment infrastructure, better monetization opportunities will be available to game developers.
5. Enhancing Learning Opportunities
Game development is a steep learning curve, with limited universities and colleges in India offering courses for aspiring game developers. Fresh graduates from these institutes who join gaming studios are unable to cope with the rising demand.
Government support and several Nasscom initiatives are working towards solving this problem at the source. The Gaming Forum at NASSCOM led by Rajesh Rao, for instance, has been helping to drive considerable interest and support for game development in India. Through their sessions and tours across regions, NASSCOM is generating awareness as well as interest across school students, college students and professionals. The annual game developer conference most recently held at HICC, Hyderabad in November, 2016 was attended by 1500 members of the Gaming fraternity and saw gaming reports released by Mauj Mobile titled "Inside India's Gamers – white paper on trends emerging within the Indian gaming ecosystem" and App Annie titled "Mobile Gaming on the rise in India".
6. Localization
Games with relevant local content blended within the gameplay and integration of strong local IPs within the game increase the chances of people downloading, engaging with, retaining and this increases opportunities for monetization.
Indian gamer masses will be able to relate to the local theme better, and most importantly, will continue playing the game for a long time and hence developers can see increased game retention.
7. Business models tuned for India
Over 95% of the people who play Clash of Clans are happy to take the pain and grind through the process of leveling up their defenses and weapons. Gamers are attacked and they simply wait for the next day to garner resources to level up and upgrade.
Indian consumers are averse to paying for digital content especially when they get it for free – a trend which is showing signs of changing when great value is offered.
The in-app purchase model is difficult in India and a mix of in-app ads as well as in-app brand placements are emerging as strong sources of monetization.
Multiple experiments would be needed to arrive at the right business model – patience and a certain amount of risk taking ability will drive Indian game developers to arrive at the right business model which is tailor made for India.
The Indian gaming ecosystem offers a sizable and distinctly unique opportunity for game developers. Game developers looking to make successful games in the Indian context need to understand and be conscious about the nuances of the Indian gaming consumer, their limitations with regards to the devices they have, their wallet sizes etc. and create a customized gaming experience that caters to their specific preferences.
Also Read: A Game Publisher's Marketing Guide To The Indian Market
(Disclaimer: This is a guest post submitted on Techstory by Sohel Golwala – Associate Director, Products – gamesbond.in. All the contents and images in the article have been provided to Techstory by the authors of the article. Techstory is not responsible or liable for any content in this article.)
Image Source: gameindustry.com