Good day! Are you sick of dealing with broken adapters or losing them all the time? We've all been there, so believe me. But don't worry—this can be the ideal opportunity for you to switch to a new adaptor! Let's face it: using the adapter that came with your laptop or smartphone will cost you a hefty sum, so don't do it. And that price increase is practically assured when it comes to Apple items!
But what's this? We've got you covered with a generally praised adaptor that has earned positive customer feedback. It is an OneAdaptr OneWorld 100 Adapter. This small jewel provides the greatest electrical standards to keep your electronics safe while also saving you a tonne of money. So let's get started with a thorough analysis of the OneWorld 100 Adapter, which will cover everything from its features and mobility to its cost and our overall assessment.
OneWorld 100 Adapter: Your All-in-One Charging Solution for power Apple users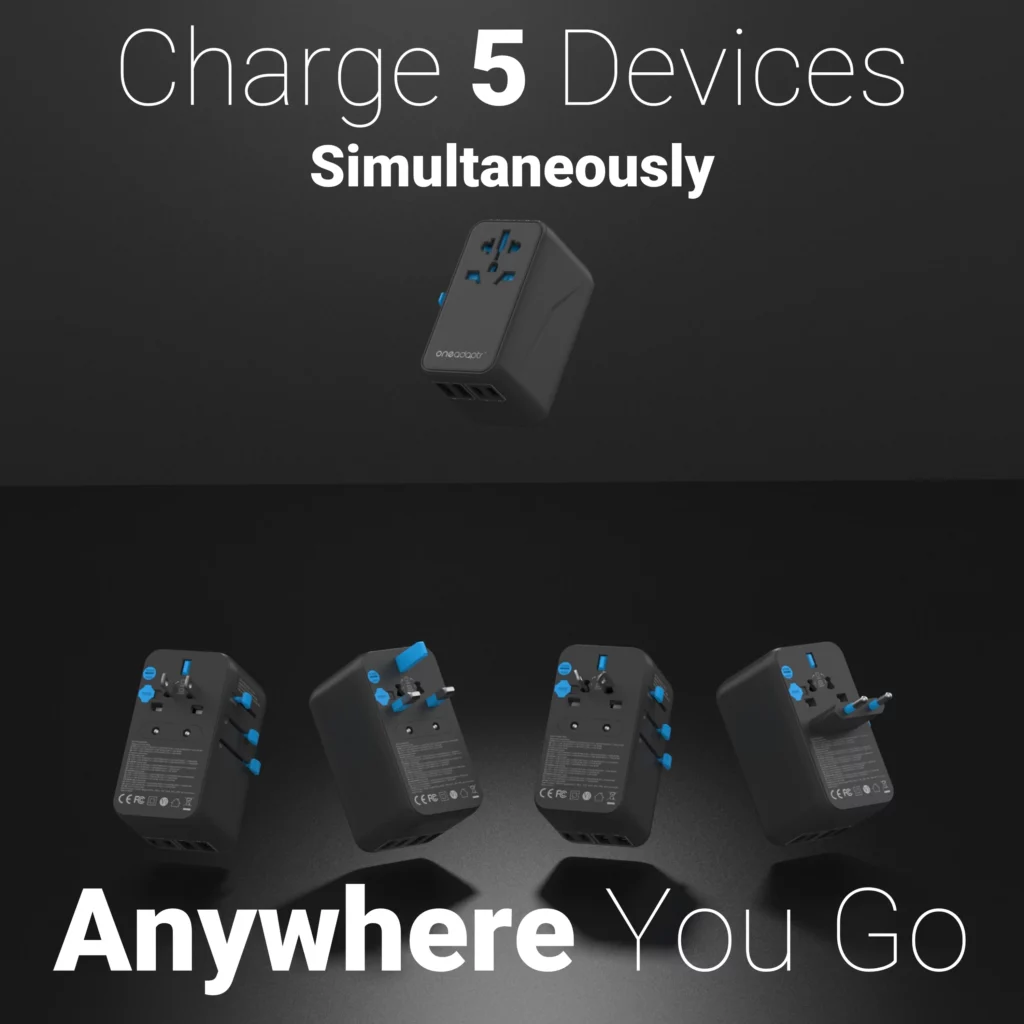 Imagine this: You own a variety of Apple products, including iPads, iPhones, Watches, and AirPods. Not to mention the mess of cords and chargers that comes along with it, keeping them all charged can be a big hassle.
But don't worry! In order to rescue the day, the OneWorld 100 Adapter is here. All of your Apple gadgets may be charged and supported by this amazing adaptor. You can save a tonne of money by using just one universal adaptor to rule them all!
Features That Will Leave You Impressed
Let's discuss the amazing features that set the OneWorld 100 Adapter apart from the competition. Its outstanding charge capacity is first and foremost. With compatibility for 2×100 USB PD charging and QC (Quick Charge), this adapter can emit an astounding 100+100 watts of power. You can now fully charge your MacBook Pro, which consumes a lot of electricity!
However, there's still more! Additionally, the OneWorld 100 Adapter has two USB A Smart Charging Ports. Whether you use an iPhone or an iPad, these connectors are excellent for charging your mobile devices. They offer lightning-quick charging at up to 15W. Those sluggish charging periods are over!
Portability That Fits in Your Pocket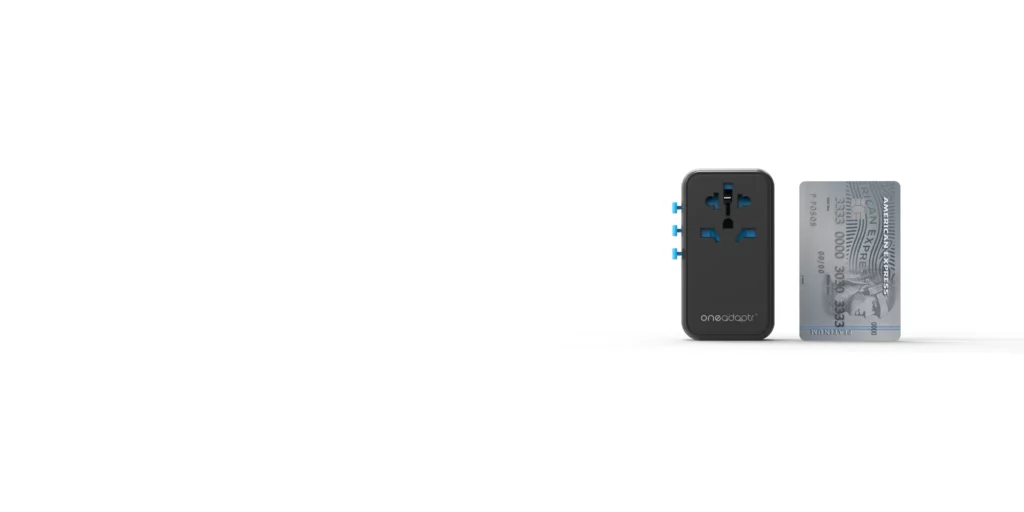 This adaptor is a game-changer if you're someone who travels frequently or is constantly on the go. Say goodbye to the trouble of lugging around many wires and chargers for various gadgets. You may use the OneWorld 100 Adapter to charge all of your Apple devices at once. The ideal traveling companion, it is tiny, light, and as thin as a credit card.
Safety First: GaN Technology and IEC Certifications
OneAdaptr will take care of your electrical safety needs. Incorporating the most recent Gallium Nitride (GaN) technology, the OneWorld 100 Adapter offers the finest electrical output and device security. The IEC 60884 Certification, which guarantees protection against over-temperature, over-current, over-voltage, power surges, and fuse-related accidents, has been carefully tested and granted. We have good care of your electronics!
OneWorld 100 Adaptor Pricing That Won't Break the Bank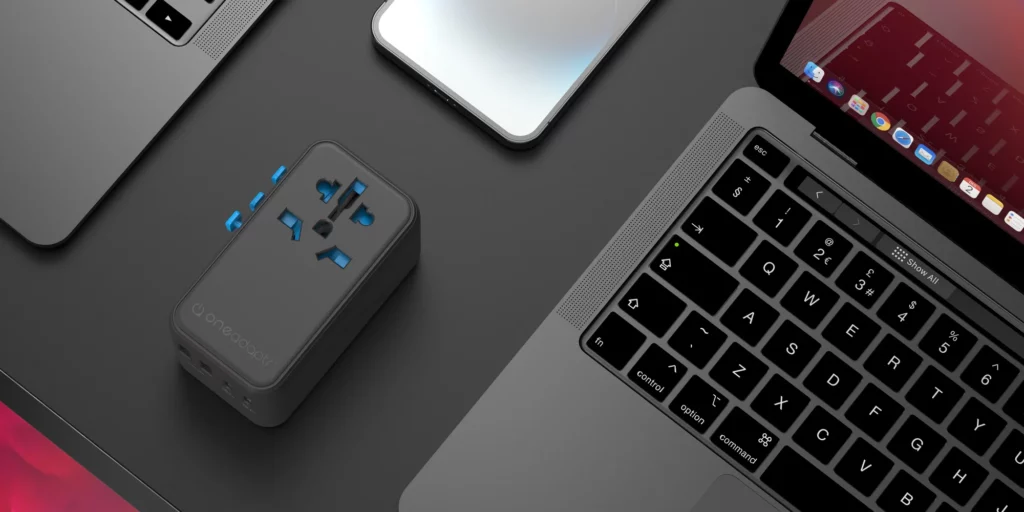 Let's now discuss the price tag. You'll be pleasantly pleased by the OneWorld 100 Adapter's cost given its exceptional features, all-encompassing compatibility, and top-notch safety requirements. For Apple power users who appreciate both capability and savings, it's a deal at just $89.00.
And here's an even better deal: You may save more money if you choose the combo pack. You may save 5% by purchasing two adapters, lowering the final cost to $169.10 from $178.00. And the bundle of three adapters gives even bigger savings if you're truly seeking to stock up or maybe share the deal with friends or family. By using a 10% discount, the cost is reduced by $267.00 to just $240.30. That's what we mean by a wise buy, now!
Pros and Cons of OneWorld 100 Adaptor 
If you are still nudging about whether you get this adaptor or not, then here we have got you brief summary of the pros and cons of this new OnWorld 100 adaptor.
PROS
Flexible Charging: You can charge numerous Apple devices at once with the OneWorld 100 Adapter, which eliminates the need for additional chargers and clears up counter space.
With support for more than 200 nations, this adapter is ideal for foreign travelers and ensures that you can charge your devices wherever you go.
Speedy and Efficient Charging: The 2×100 USB PD charging capability in combination with QC enables speedy charging speeds, enabling you to rapidly and effectively charge your devices.
Convenient Design: The adapter's small size makes it very portable and simple to carry, making it an excellent travel companion.
CONS
Built Quality: The OneWorld 100 Adapter should have been made better in this regard. Concerns concerning the adapter's long-term endurance have been raised by certain customers who have mentioned that it could be built with more durability.
Limited Colour alternatives: The OneWorld 100 Adapter is presently only offered in a few colors, which may not be appealing to consumers who desire a wide range of alternatives to suit their own tastes in fashion or aesthetics. However, you can add your skin over the charger to make it aesthetic looking.
No Included Charging Cables: The OneWorld 100 Adapter does not contain charging cables, in contrast to certain other adapters available on the market. This implies that customers will have to supply their own wires, which may be a hassle for those who don't have additional on hand.
Final Verdict – OneWorld 100 Adaptor
It is obvious that the OneWorld 100 Adapter from OneAdaptr is a game-changer after carefully studying its features, mobility, and cost. This converter is a need if you're fed up with tangled cables, different chargers, and the bother of trying to find the correct adaptor for your Apple devices.
When taking into account all of these aspects, the OneWorld 100 Adapter represents outstanding value at $89.00. With this cost-effective choice, you may save money while still getting excellent charging performance.
Don't pass up the chance to eliminate the annoyance of using several adapters and simplify your charging arrangement. Invest in the OneWorld 100 Adapter right now to see how it may improve your everyday charging habits. You'll be grateful to your devices and wonder how you survived without it.