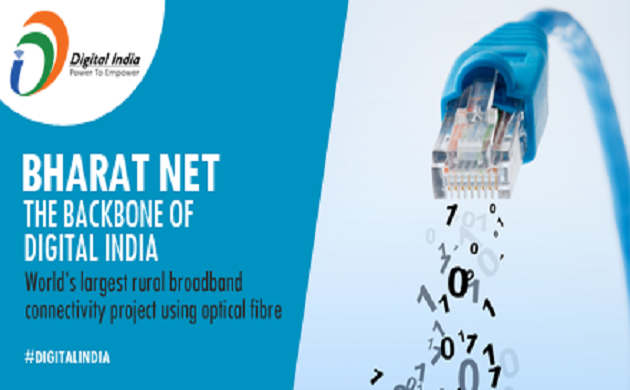 13 November 2017, India:
The Government of India launched BharatNet Phase II project on Monday. Through BharatNet, Government aims to provide high-speed broadband connections to gram panchayats. by the end of 2019.
The Government has proposed a subsidy of Rs 3,600 crore (as part of BharatNet Phase II) to private telecom firms such as Bharati Airtel, Vodafone India, Idea Cellular and Reliance Jio through viability gap funding. Private telecom firms will use this money for setting up WiFi in rural areas. A MoU (Memorandum of Understanding) regarding this would be soon signed between Government and private telecom firms.
The proposal for offering Rs 3600 crore subsidy to telecos assisting the government in the BharatNet project was originally presented before the Union Cabinet in July.
During launch, Communications Minister Manoj Sinha said, "We are truly moving towards a digital future. BharatNet is an integral part of Digital India. With BharatNet we hope to touch several lives".
BharatNet Phase I is set to complete by the end of 2017. The aim of BharatNet Phase I was to provide fibre connectivity to 1 lakh gram panchayats. An investment of Rs 11,200 crore was done in Phase I. BharatNet Phase II is about expanding WiFi connectivity across all villages, using the fibre optic cable network which have been p]laced under Phase I.  The Government intends to increase the fibre to 20 lakh km by March 2019.
The Telecom Ministry has signed MoU (Memorandum of Understanding) with seven states, who will roll out Phase II of BharatNet on their own with partial funding from the central government. These seven states are:  Gujarat, Andhra Pradesh, Chhattisgarh, Telengana, Maharastra, Tamil Nadu and Jharkhand.
Aruna Sundarajan, secretary of DoT, siad, "We will launch phase 2 of BharatNet tomorrow to connect 150k gram panchayats with high speed broadband by March, 2019. Phase 1 of the project, under which 100k Gram Panchayats were to be connected, will be completed by the end of this year. We expect telecom operators to provide at least 2 megabit per second speed to rural households."
Sundarajan added, "India, at present, has 38,000 WiFi hotspots, around 600k to 700k WiFi hotspots will be added with 2-5 hotspots in each panchayats. Some of the WiFi hotspots may not be commercially viable initially. So, we will provide viability gap funding of around $550 million (around Rs 3600 crore) to telecom operators.
Once BharatNet's entire objectives are achieved, Digital India mission will witness a new surge and a new enthusiasm.
(Image – News Nation)