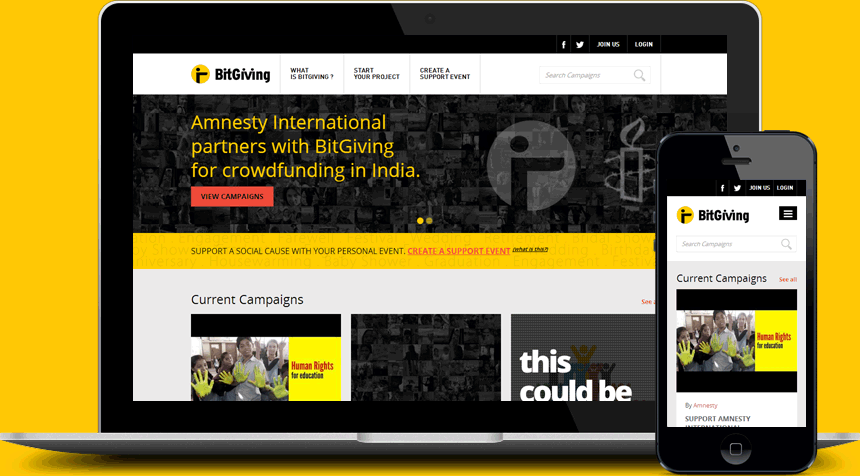 3 January, 2016, New Delhi: BitGiving has succeeded in alluring the interest of cluster of angel investors. Company has managed to raise an undisclosed amount from Harminder Sahni, Krishna Mehra, Sanjay Bakshi among others. Delhi Based crowdfunding startup helps individuals and organisations to acquire funds  for their entrepreneurial, creative and social projects.
Speaking on the occasion, Ishita Anand, Founder and CEO said, "even though the platform has been bootstrapped only for the last two years, it has managed to become a brand and become the fastest growing crowdfunding platform in India. We have some very interesting things planned this year, along with the launch of BitGiving 2.0, which is going to redefine community driven crowdfunding."
With the raised amount, company will be focusing on launching BitGiving 2.0 which will concentrate on enhancing its campaign engagement and developing new community contacts. Other part of the funding will be utilised in strengthening its team and developing the product and marketing strategies.
As per the officials, last year, company had actively hosted several campaigns and these had churned the crowdfunding ecosystem in India. Some of its fruitful campaigns include one for Indian ice-hockey for which it had collected Rs 60 lakh and another one for Chennai flood for which it had gathered a fund of RS 40 Lakh. Its campaigns have been supported by some of the renowned personalities such as  Anand Mahindra, Soha Ali Khan, Sonakshi Sinha, Gul Panag and others.
Comments
comments