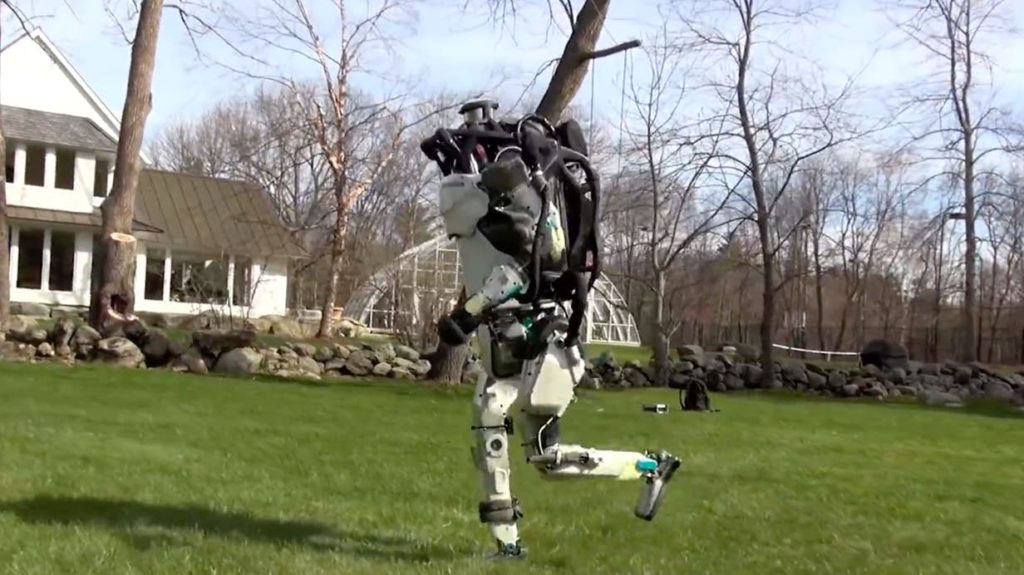 Boston Dynamics, the builder of the BigDog robot for the U.S. military, never ceases to surprise us with its increasingly sophisticated robots. The Massachusetts-based company has recently released new videos of its two famous robots, Atlas and SpotMini.
In the latest video, we can see Atlas jogging across an open terrain. Although its movements are not so smooth or elegant, a robot navigating across an uneven terrain, like humans is still quite impressive. The robot is also seen halting for a while before a piece of log and then jumping over it.
Atlas is one of the latest humanoid robots developed by Boston Dynamics. The robot's control system coordinates the movements of its various parts and allows it to maintain balance while doing different tasks.
[youtube https://www.youtube.com/watch?v=vjSohj-Iclc?rel=0&controls=0&showinfo=0]
Equipped with stereo and range sensors, it can walk over a wide range of terrains, avoid obstacles on its path, navigate, and manipulate objects in its environment.
Along with the video of Atlas, Boston Dynamics has also released another video, in which you can see the robot dog SpotMini climbing stairs with incredible grace. In a previous video, the quadruped robot was seen opening doors for itself and other robots despite human resistance, which was quite scary.
[youtube https://www.youtube.com/watch?v=Ve9kWX_KXus?rel=0&controls=0&showinfo=0]
The new version of SpotMini can also be seen running around an office with impressive speed by navigating the entire course on its own. The cameras fitted into the robot help it to navigate autonomously and avoid obstacles that may come on its way. But initially, it had to be guided through the entire course so that it can map the area.
The speed at which Boston Dynamics is improvising Atlas and MiniSpot, it seems the day is not far when these two robots will change the entire human perception about what robots can do.
Image Credit: limitlessiq.com