Are you ready for some great news? It's time to upgrade your gadgets and appliances because the clearance sale is here! We have the latest and greatest technology products that you need to make your life more comfortable. Whether it's a new smartphone, laptop, or the latest gadget, we've got you covered with amazing deals and discounts.
But let's be real, it's always important to get the best deal when upgrading your tech. And this time, you're in luck because we have some amazing deals that you won't want to miss out on. So without any further delay, let's take a closer look at some of the best deals we have for you.
Deal for Smart TV
Do you want to improve the quality of your TV watching? With the brand-new Insignia Class F30 Series Smart Fire TV, you can. You'll adore the great features that this new TV has to offer.
First off, the display panel is 50 inches wide and supports the most recent HDR10 technology. You may enjoy sharp and clear graphics like never before with a resolution of 2160p. The greatest thing is that because it's a smart TV, you can easily access all of your favorite streaming applications from the TV.
Insignia Class F30 Series Smart Fire TV for $220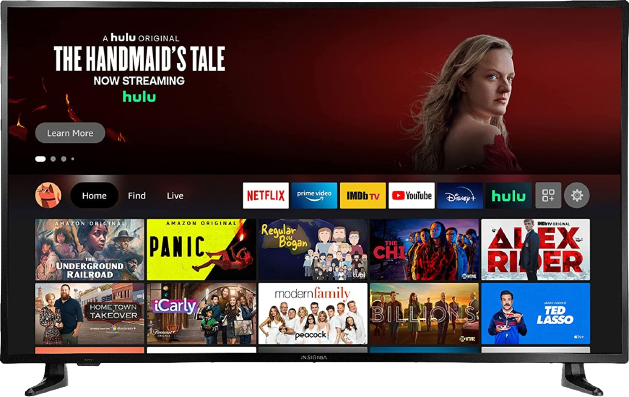 You can now get your hands on the new Insignia Class F30 Series Smart Fire TV for only $220. That's a whopping $180 off the original price of $400! So, it's the perfect time to upgrade your old TV and get a new one at an amazing discount.
But, is it worth it?
Let me go over some of the features of the Insignia Class F30 Series Smart Fire TV if you're not sure if it's the best option for you. In addition to its 50-inch screen and HDR10 compatibility, this TV boasts a powerful sound output that is made possible by DTS Studio Sound. Consequently, you may hear flawless audio.
Additionally, because it's a Fire TV, Amazon Alexa may be used to navigate the TV. Additionally, this TV supports HDMI Arc and HDMI eARC, making it simple to connect to your speaker, so you don't have to worry about tangled cables.
Conclusion
In conclusion, now is the ideal moment to replace your home entertainment system if you're in the market for a new smart TV. You can take advantage of a magnificent display, strong audio, and an easy-to-use interface with the Insignia Class F30 Series Smart Fire TV, which makes streaming your preferred entertainment a snap. Additionally, you can purchase this high-quality TV for a small portion of its original cost thanks to the current clearance offer.
However, the trades go on. From smartphones to computers, a variety of electronic gadgets are on sale at this clearance event. Therefore, now is the time to take advantage of these fantastic deals, whether you're wanting to update your current equipment or simply want to treat yourself to something new.
Don't pass up the chance to save a lot on the newest appliances and technology. Before they go, visit our website and have a look at the offers. You are guaranteed to discover something that satisfies your demands and your budget with our high-quality items and great rates.
We continue to work hard to give our clients the very best purchasing experience. We're here for you every step of the way, from our wide range of items to our welcoming customer support team. What are you still holding out for? Start your purchasing right now to take advantage of cutting-edge technology at a reduced price!
Comments
comments