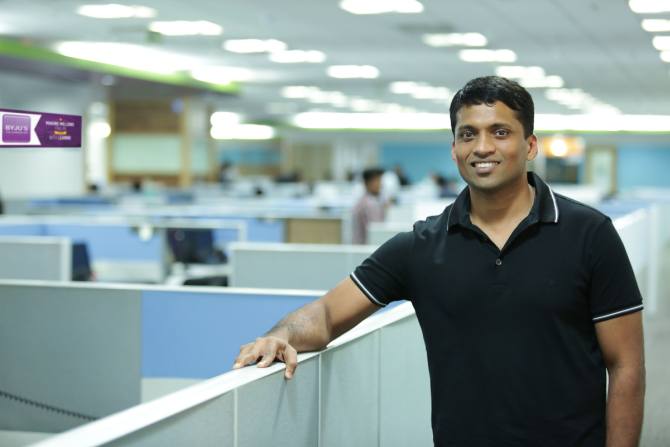 BYJU's, as many now know, has become India's most well-known Edutech startup. It is being widely adopted by students across the country as a more affordable and convenient alternative to tuitions. It is also becoming one of the biggest supplements to traditional school learning.

Here we track the complete journey of BYJU's – from where it began and how it was funded to how it expanded.

Early Beginnings

'BYJU's – The Learning App' is what most people know about the company. However, the company's official name of recognition is Think and Learn Pvt. Ltd. The company is a Bangalore-based education tech company that is mainly known for its online tutoring programs.

BYJU's was found originally in 2011 by Byju Raveendran in Bangalore, Karnataka. Raveendran was a teacher or a CAT tutor to be more specific. The man was famous for his unconventional teaching methods, which drew initial students, and as most stories go, his students went on to become IIM students who felt his effects and soon, his popularity grew.

Today, Raveendran stands tall with BYJU's, because he received backing from 8 of his students who helped him grow the company to what it is today.

The first is Pravin Prakash who turned down a placement at IIM, in order to join his teacher Raveendran to create BYJU's. Today, Prakash is the Chief Operating Officer at the company. There is also Mrinal Mohit, a student who attended Byju's classes, secured an IIM position, and after initial hesitation, joined the company full time.

Now, Byju Raveendran has three main segments that his top brass is divided into:

Technology
Media and Content
Sales and Marketing
Now, except for the technology segment, most top employees in Think and Learn Pvt. Ltd. are ex-students of Byju. This includes the Director Divya Gokulnath, the Chief Content Officer – Vinay MR, The VP of Marketing- Arjun Mohan, the AVP of Operations – Mohnish Jaiswal, and the Chief Strategy Officer – Anita Kishore.

These positions were filled in after two to three years of Byju Raveendran handling all the management and execution of the company by himself.

"I was looking for subject matter expertise. Since I taught them I had data on how they performed in tests. It is a strong criterion," said Raveendran, chief executive of Byju's. "I went to people who were very enterprising in college."

Byju says that after recruiting, the reigns were almost completely taken up by his new students who were turned into employees. They got new users, marketed the company, pointed out operational bugs, and so on and so forth.

Funding

Byju's is currently funded by 11 investors in total, which includes General Atlantic, Sequoia Capital, and Tencent Holdings.

They have run 7 series of funding rounds from 1st November 2011 til 28th August 2017 with one Private Equity Round being run in September 2018. So far, the company has raised a total of $344 million over its eight complete rounds.

Apart from funding, Byju's also has had co-opted various Edtech companies along the way. Their first acquisition was of SPAN Thoughtworks Pvt. Ltd., aka Vidyartha, which was a customized, guided learning platform.
TutorVista.com was the next acquisition that it undertook in July 2017. This company too was in the Edutech industry and used to provide online tutoring services.

Lastly, Math Adventures – an academic improvement service for Math, has been Think and Learn's latest acquisition which happened in July 2018.

Expansion

BYJU's as a company expanded slowly and steadily. When Byju Raveendran initially took his classes, he prepped students for CAT. After formally expanding and recruiting for his company, he wanted to step things up by a notch.

Here is where Mrinal Mohit helped the company reach out to more students by broadcasting Byju's classes to remote audiences via satellite. Soon, this technology was used to broadcast the classes across 90 different cities. The physical classes were soon disbanded. They were initially skeptical whether the lack of a physical presence would hamper learning but this concern was dismissed.

"We were convinced that we can show video and audio and the work can be done. We knew this… we ourselves were his students. We knew the content was the king (sic)," said Mohit.

As the VSAT classes grew, new inclusions were made into the learning ecosystem and courses for GMAT, GRE, and IAS were added to the program.

But soon, VSAT was losing steam because of unreliable connectivity issues in the country and the team started to look for alternatives. The switch happened to tablets in 2013 where BYJU' courses came preloaded as course materials on a tablet which were then distributed around the country.

Soon, the tablets moved on from higher level entrance examination material to material for school children ranging from UKG to 12th grade. Till this date, BYJU's freemium tablet subscription model is what is used across the country. The costs of the courses depend on the range of subjects, the grade of the pupil, and how long the course is being purchased for.

Future

Making a mark in the Indian education system, where parents invest thousands of rupees and one that is so competition heavy, is not an easy feat and BYJU's deserves due credit for doing a good job.

However, the Indian startup ecosystem is very volatile. Many promising companies have seen a quick demise. Byju's has been extremely successful and it has the potential to capture more market share and expand further into language mediums and regions.

Now, whether it reaches that potential or quickly fizzles out is something we are yet to see.