Saving the best one of the series for the last. Yes, people, we have come to the end of our series, 'The Remarkable CEOs'. This person was ranked #1 by Jim Collins in his list of CEOs of All-Time – Charles Coffin.
Charles is credited to be the person who built systems to duplicate success over and over again. The co-founder and the first president of General Electric Corporation – Charles Coffin.
Early Life 
Born on the last day of the year 1844 – 31st December, in Maine, US. Before General Electric Corporation, Charles worked for at his uncle's shoe company for twenty years in Lynn, Massachusetts. After gaining all the experience, he eventually opened his own shoe factory which he named as 'Coffin and Clough'.
The Thomson-Houston
Another businessman from Lynn, Silas A. Barton approached Coffin to discuss an idea which was to bring a struggling electric company to their town from New Britain. He wanted to rebuild it, finance it, and lead it.
Charles along with the engineering expertise of Elihu Thomson successfully recreated and renamed what was previously named as Thomson-Houston. 
General Electric 
When Thomson-Houston and Edison's company collaborated to build 'General Electric', Charles Coffin served as their first CEO. 
"A man born to command, yet who never issued orders."

– GE team on  Charles Coffin
Such was the leadership quality of the man. His executive skills helped GE to get established as one of the top rank corporations. There is a reason why he isn't as famous or well known as other great CEOs.
A lot of it has to do with the way he and his predecessors worked. Imagine someone filling the shoes of the man who had several patents including the electric light, the phonograph, and the dissemination of electricity – Yes, It's Thomas Edison.
But Coffin didn't desire to be the next Edison but he proved his mettle in his own way by inventing the General Electric Co. He also led the team that is credited for building –
America's first research laboratory
And the idea of systematic management development.
His real test happened in the depression of 1893. But, Coffin coolly handled the negotiations with JP Morgan, when the cash shortage threatened GE's existence. His calmness and tactic saved the company and made its rapid recovery and growth possible during the remainder of his tenure.
Coffin always referred his fellow co-workers as associates, even if it was a junior, he never used 'Subordinate'. His associates knew him to be a gracious gentleman and a delightful companion. 
---
With this, we come to an end of the Series, 'Remarkable CEOs'. These great leaders were truly an inspiration. We do know why Jim Collins mentioned them in his list of top 10 CEOs of All Time. Because they didn't just make the company good, they made it great.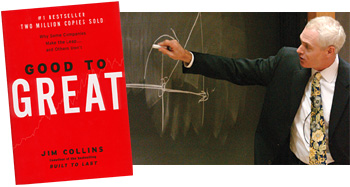 Special gratitude to Jim Collins for his motivational 'Good to Great'.
---
Reference