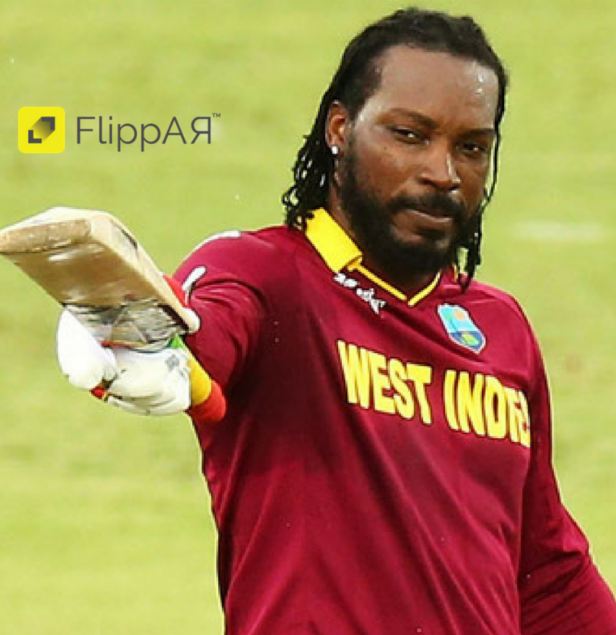 26 September 2017, India:
Mighty West Indian batsman Chris Gayle has picked up minority stakes in Bangalore-based augmented reality platform FlippAR.
FlippAR has been providing Augmented Reality development services for over 2 years and developing mobile applications for over 3 years now.
"The West Indian great Chris Gayle has picked up a minority stake in our venture.. Gayle will be endorsing the brand and initiate campaigns across the world," said FlippAR Founder Vivek Jain.
FlippAR is thrilled to announce our association with the legendary @henrygayle
Welcome to the team #UniverseBoss#augmentedreality pic.twitter.com/swaWBOawBs

— FlippAR (@flipparworld) September 19, 2017
The agreement was signed four days ago with the help of Dinanath Ramnarine, who is very close to Gayle. "Ramnarine was the man who backed Gayle in his standoff with the West Indies Cricket Board. He is one of the most respected cricket administrators in West Indies," he said.
Related Read: Digital Lending Startup CrediFiable Raises Funding from Kae Capital
"Our customers fall in the 16-24 age bracket… We will be launching a couple of campaigns where Gayle will feature," Jain told VCCircle.
Gayle is not just an explosive batsman, he also is a great mentor and we are ecstatic to have him on-board as our investor and ambassador. He would play an important role in helping realise our vision of how people experience reality, by blending the virtual and the physical, FlippAR stated.
FlippAR's Augmented Reality mobile platform helps address these challenges. FlippAR was conceptualized in June 2014 and is a venture of StrApp Business Solutions (StrApp.net), Bangalore.
Augmented reality (AR) is a live direct or indirect view of a physical, real-world environment whose elements are augmented (or supplemented) by computer-generated sensory input such as sound, video, graphics or GPS data.
FlippAR's mission is to get people to use augmented reality everyday to access information at the right time, at the right place, in the right format. Imagine going to a restaurant and deciding on what to eat. If you pointed your device to a particular item on the menu, it could provide more information about that item, reviews, etc. Or if you are at the railway station and you find an advertisement of a product that you find interesting and you take your mobile device and point to the ad and you are served with more information of the product, being able to experience a 360 degrees view of the product, or being able to see how the product works or making a call to the concerned advertiser to get more information. (Image- FlippAR)
Also Read: FlippAR – Augmented Reality on your Mobile Phones!
Comments
comments