Developing new ideas was, according to economist John Maynard Keynes, not the issue. Escaping old ideas was the tricky part.
3D printing technology has undergone significant changes and advancements in recent years. The most notable change is the transition from desktop 3D printing to intelligent mobile 3D printing.
To escape old ideas, as one of the leading manufacturers of 3D printers, Creality developed the world's first integrated 3D printing platform, called Creality Cloud.
What is Creality Cloud?
Creality Cloud is a 3D model marketplace, with built-in 3D slicing software, and supports remote control printing, remote video monitoring, personalized creative modeling tools, and other core gameplay, it is also an interactive social exchange for all 3D printing enthusiasts.
The platform is designed to make it easier for users to print 3D models and provides several features that simplify the 3D printing process.
Let's see the complete introduction of Creality Cloud in the video.
Creality Cloud — All in One 3D Printing Platform
1. Is Creality Cloud free to use?
Yes! The basic features of Creality Cloud are free to use, which include the ability to remotely manage and monitor your 3D printer, as well as access to the 3D model marketplace.
However, the platform does offer a premium subscription option for users who want to access additional features. Like, update to more cloud space, more discounts on 3D model purchasing, etc.
Basically, the free version is enough to use.
2. Creality Cloud compatibility
Creality Cloud offers a website platform and App version available on Google Play and App store, which means you can use it without installing software on your desktop.
Both versions support you managing your 3D models and 3D slicing.
It has some limits to remote controlling your 3D printers. It is just useful for Creality 3D printers unless you use the Open Source Plugins CrealityCloud-Octoprint. 
To provide you with an objective and real opinion about Creality Cloud, we tested the main features to share our user experience with you.
Creality Cloud 3D model marketplace
The Creality Cloud 3D model marketplace is a great resource for users who are looking for high-quality and easy-to-print 3D models. The marketplace offers a wide range of 3D models, including designs for toys, household items, jewelry, and more. The models are created by a community of talented 3D designers from around the world and are curated by Creality3D to ensure quality and usability.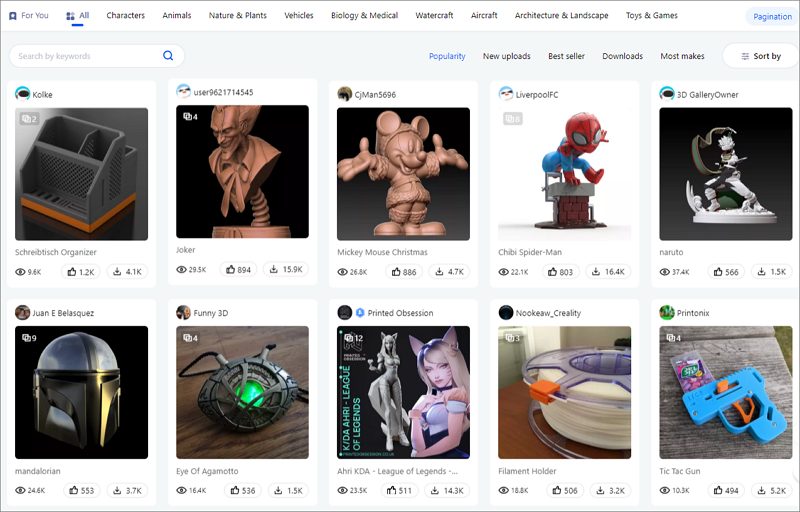 In Creality Cloud 3D model marketplace where 3D designers can upload their 3D designs to sell, and users can download and purchase 3D models to print on their Creality 3D printers.
As a 3D designer, you can:
Monetize Your Designs.

Build your business by selling your original 3D designs. You earn 90% from every sale!

Exclusive Model Collection.

Get an exclusive section on Creality Cloud to share and showcase your designs. 

Official Promotion.

Access to FREE brand exposure and official promotion in all channels to help increase your popularity.

Reach More Fees.

Connect with your peers and gather them on Creality Cloud. Earn additional referral fees for every designer you bring along!

Be a Host.

Be a part of the host of 3D print competitions and giveaways. Engage with your community and encourage them to share their creativity to win top prizes.

Premium Membership Free Trial.

Enjoy a 1-month premium membership service to get more access to advanced features and benefits.

Copyright 100% Protected.

Your original work (inc 3D prints & articles) is restrictedly protected under Creative Commons Licenses 4.0. 
Become a 3D designer on Creality Cloud now!
As a 3D models buyer, you can:
Enjoy a great 3D model resource

Purchase high-quality 3D models

3D print your 3D model directly using Creality Cloud

Slice your 3D model directly on the Creality Cloud website or App easily
Overall, the Creality Cloud 3D model marketplace is a great resource for users who are looking for high-quality and easy-to-print 3D models for their Creality3D printers. With a wide range of models available and an easy-to-use platform, it is likely to be a popular choice for Creality3D users for years to come.
3D slicing online free using Creality Cloud
Creality Cloud offers a cloud-based slicing feature that allows users to slice their 3D models online, directly from the platform.
Creality Cloud has the purpose to simplify the 3D printing process, to make it easy for beginners. So, Creality Cloud 3D slicer provides the perfect default setting when you select the determined device type and material you use, to make your 3D prints perfect.
When the slice is completed, it will save your slice file on the cloud automatically, you can also save it on the local disco.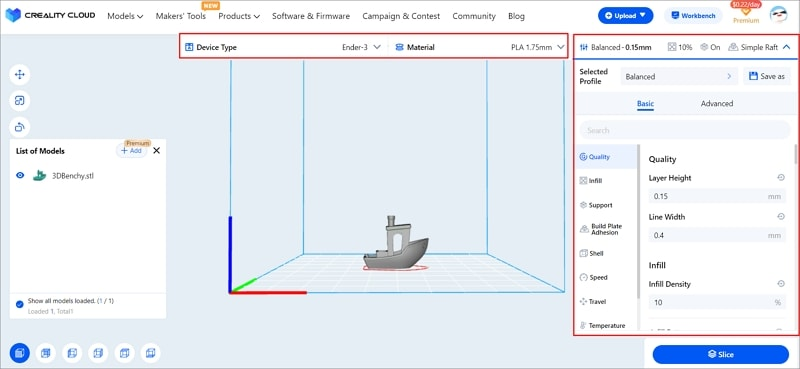 Remote control 3D printers using the Creality Cloud App
Another major benefit of Creality Cloud is that provides a mobile version to remotely control 3D printers.
Users can start and stop prints, adjust settings, and monitor the progress of their prints from anywhere with an internet connection from their mobile.
This is particularly useful for users who want to start prints while away from their printer or who want to monitor the progress of prints remotely.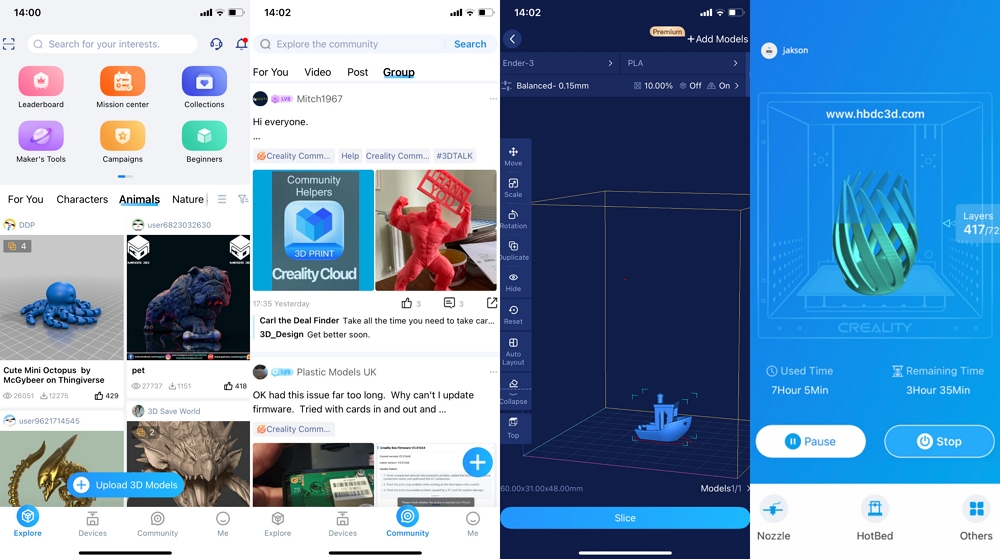 Overall, Creality Cloud is a useful platform for managing and controlling 3D printers. Its intuitive interface and remote access features make it a convenient option for users who want to simplify the 3D printing process.
While it may not be the best choice for users who require advanced features or who prefer to work offline, it is an excellent option for beginners or those looking for a user-friendly way to manage their 3D prints.