Creativity is just connecting things. When you ask creative people how they did something, they feel a little guilty because they didn't really do it, they just saw something. It seemed obvious to them after a while. That's because they were able to connect experiences they've had and synthesize new things. – Steve Jobs
Creativity is intelligence having fun. – Albert Einstein
To live a creative life, we must lose our fear of being wrong. – Joseph Chilton Pearce
You cant use up creativity. The more you use, the more you have. – Maya Angelou
If you want to live your life in a creative way, as an artist, you have to not look back too much. You have to be willing to take whatever you've done and whoever you were and throw them away. – Steve Jobs
Creativity is contagious. Pass it on . – Albert Einstein
Making the simple complicated is commonplace; making the complicated simple, awesomely simple, that's creativity. -Charles Mingus
Old ways wont open new doors. – Miroslav Rajkovic
The desire to create is one of the deepest yearnings of the human soul. – Dieter F. Uchtdorf
Every child is an artist, the problem is staying an artist when you grow up. – Pablo Picasso
Creativity is seeing what everyone else has seen, and thinking what no one else has thought. – Albert Einstein
The chief enemy of creativity is 'good' sense. – Pablo Picasso
The secret to creativity is knowing how to hide your sources. – Albert Einstein
True creativity often starts where language ends. -Arthur Koestler
The soul should always stand ajar. Ready to welcome the ecstatic experience. – Emily Dickinson.
An idea that is not dangerous is unworthy of being called an idea at all. – Oscar Wilde
Everyone has talent. What is rare is the courage to follow the talent to the dark place where it leads. – Erica Jong
Ranveer Singh's image by Gagandeep Singh.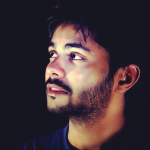 Gagandeep Singh, is 23 years Old Graphic Designer. He started his Career in early age. Doing painting, Sketching with his father resulted in him surrounded by art from early childhood. He got his first Designing job during his graduation &  after graduation he landed into a Co. of Electronic Retailer of Jewelry and Lifestyle Products 'VGL India'
More of his work on https://www.behance.net/Gagandeepsingh