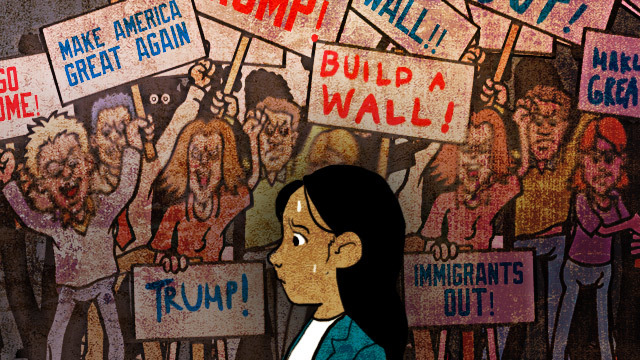 There has been a lot of news lately about the potential impact of Donald Trump policies on H-1B visa holders, majority of the holders being the technology workers with large IT sourcing companies. However, over the last few months thousands of parents and students studying or aspiring to study in the U.S. have been confused and wondering if the changes in H1B visa policy would have a negative impact to their future in the country.
Before pushing the panic button, it would be good to understand some context behind the H1B visa program and why President Trump is suggesting changes to it. This is the only way, with some of the recent news, to understand what, if any, will be impact on International students in the U.S.
Since the 1960s, until mid-90s, the major avenue for migration to the U.S. for Indian nationals was through family-sponsored immigration or through higher studies at the U.S. universities, which would then lead to employment on a H-1B visa, eventual permanent residency ("a Green card") and citizenship (if desired).  The stereotype of Indian immigrants as highly educated and middle-/upper middle-class professionals is in part a result of this wave of migration of Indians who went to the US initially for higher education.
A third, more recent route started in mid 1990s, with the emergence of Indian IT outsourcing firms gaining recognition as a complement to large corporations' internal IT organizations.  This accelerated further in the late 1990s, thanks to the Y2K scare when many U.S. companies amped up their use of Indian IT outsourcing firms to work on Y2K projects. The credibility that they built with US firms then led to additional IT work coming their way.
This influx of Indian talent not only helped complement the U.S. technical workforce but also allowed U.S. companies to cut costs, since these workers – on H1-B visas – cost 60-70% what a typical US IT worker would command.  As a result, each year, thousands of workers from the IT industry move to the U.S. on technical projects.  In several cases, this led U.S. corporations to replace higher-cost American IT workers with lower-cost Indian IT workers, typically employed by one of the many leading Indian IT firms.
America issues about 85,000 H-1B visas to foreign nationals each year.  65,000 of these go to companies such as TCS, Wipro, Infosys, Cognizant, IBM, Accenture, etc., who are bringing workers from other countries to the US for IT-related work.  A small percentage of these visas also go to innovation-driven technology companies such as Microsoft, Google, Facebook and others, who are hiring (or internally transferring from their own foreign locations) highly qualified and experienced foreign nationals.
President Trump wants to change this and make sure U.S. companies do not replace American IT workers with foreign employees who are given visas to come to the US and replace American employees at a significantly lower pay (30-40% less).
In his recent speech to joint session of Congress on March 1st he clearly articulated his support for "Merit" based and "Law" based immigration policy. Even a recent bi-partisan bill in the U.S. re-enforces this view and supports giving priority to H-1B for students educated in the U.S. universities.
The bill among other provisions would require that rather than H-1Bs being awarded in lotteries, the government would be required to prioritize the top foreign students who have studied in the U.S. These would include advanced degree holders, those earning a "high wage," and those with "valuable skills."
In short, if what we are reading about is correct and the principles laid out by President Trump in his joint session are to be believed, foreign students pursuing their education in the US could benefit from the proposed H-1B visa policy changes as it would give them hiring priority, at competitive wages, over directly hired foreign workers.
The U.S. universities have been a destination of higher studies for hundreds of thousands of aspiring students each year. These students join the workforce after graduation and have immensely contributed to the growth of U.S. economy through innovation, research, building global enterprises, and will continue to do so for next 100 years. This cycle will keep rolling as far as the U.S. stays competitive, innovative and continues to expand its economy.
Also Read: Investors – You Have To Give More Time To Your Indian Bets !
(Disclaimer: This is a guest post submitted on Techstory by Ajay Singh and Yuri Punj,  Graduates of Harvard Business School and Co-Founder of Stoodnt. All the contents and images in the article have been provided to Techstory by the authors of the article. Techstory is not responsible or liable for any content in this article.)
Feature Image: greenhandshake.com