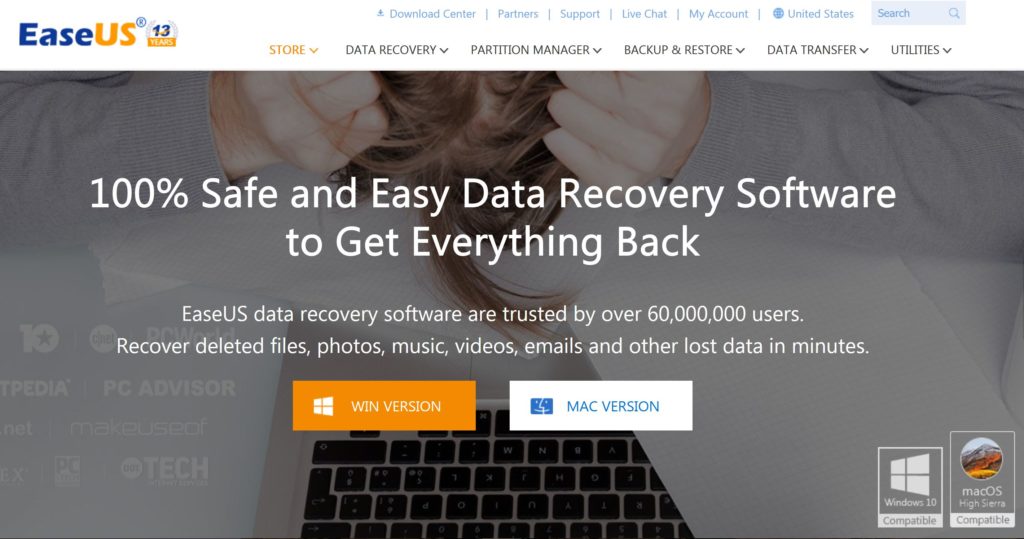 EaseUS,as the name suggests, is one of the most effective and easy to use data recovery software available in the market today. EaseUS is available for use by a variety of users – can be used by both windows and MAC users and is suitable for the needs of professional IT administrators to most basic computer users.
With EaseUS the data recovery program beings with a single click and scans your drives saving all your important data. EaseUS recovers data from your hard drive, USB drives, memory cards, and other storage devices.
The file recovery software even recovers accidentally deleted files and files deleted by programs even if you have cleared your recycle bin (as long as the files haven't been securely deleted with multiple passes). The program also recovers data from servers, RAID storage and damaged optical media. When restoring multiple files at once, EaseUS Data Recovery Wizard keeps their original folder structure intact. EaseUS supports recovery of all the basic file types. EaseUS provides Quickscan and Deep scan option. The Quickscan option takes a few seconds to run while the Deep Scan option can take longer.
EaseUS however does not allow you to  clone your hard drive to create a bootable disc or USB which can be used when a computer won't start at all. There are seperate software packages available for EaseUS that provide this feature.
EaseUS supports the following languages: English, German, Japanese, French, Brazilian Portuguese, Spanish, Italian, Dutch, Chinese (Traditional), Chinese (Simplified), Swedish, Danish, Russian, Norwegian, Polish, Hungarian, Arabic, Turkish, Korean and Indonesian.
Easeus Data Recovery Wizard is fully functional freeware with a 2GB recovery limit. Users can also upgrade to a paid version of the software. Trial version of EaseUS allows users to recover up to 2GB of data on PCs and Macs. With the trial version you can check if your data can be recovered or not before you actually purchase the software. The software is available at various pricepoints according to user needs.

EasyUS provides support to its users through live chat, email and phone. The programs HELP file also provides excellent help in use of this data recovery software. The website also has a downlodable user manual, a knowledge base that is continously updated with articles about effective data recovery.
To conclude, the EasyUS software is quick and easy to use, highly flexible to suit different kind of user needs. The solution is so comprehensive that it can be very effectively used by an IT administrator.
Comments
comments