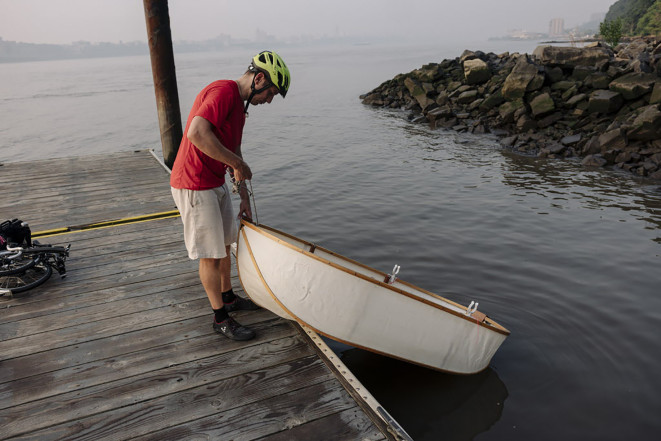 10 July 2018, India:
We are surrounded by commendable ideas and one such was adopted by Google Engineer Tommy Lutz. He decided to row to work, across the Hudson river in New York. He avoids the unnecessary traffic while enjoying the serene beauty around.
"It gives me some quiet time by myself to think and reflect," Tom said while he was all set to stride through the tides for work.
This 34-years-old rides a foldable bicycle from his way home to the boat ramp with a 6-inch foldable boat on trailer. At the ramp, he unfolds the boat, fasten the panels with two hauls to keep them in place, folds his bicycle and keeps it in the boat. For safety, he always wears a life vest and with a new zeal every day sets off for the city.
When asked about his journey across the River, he said it is faster to move than people assume with only ferries and barges to look out for when they are in his way.
At the other end, he lands at West 79th Street Boat Basin where he unfolds his cycle, fold up the boat and move towards Chelsea for work.
Depending on the current, his mode of transportation varies. He sometimes cycles his way back home or to the office is the current is not favourable. His whole journey across the George Washington bridge costs him about 1 hr per day.
"I'm convinced that uncertainty is what drives a lot of people's frustration with public transportation here," he said. "People who take New Jersey Transit every day, I just have to ask, 'You're paying how much for that? And you're going how slow?'
(Picture credits:- nypost.com)
Comments
comments