Reuter's experiments demonstrated that Baidu's Ernie bot can produce floral images and poetry in a short amount of time, however, it will reject inquiries regarding Chinese President Xi Jinping by stating that it hasn't yet learned how to reply.
The largest Chinese search engine last week introduced the Ernie bot, China's answer to OpenAI's chatbot, and starting on Thursday, users can request access to it.
The share price of Baidu rose as a consequence of certain experts and users submitting encouraging feedback regarding the use of the Ernie bot and side-by-side comparisons with ChatGPT.
However, there have been doubts about how Ernie and other Chinese chatbots under creation will handle critical issues in mainland China, where internet censorship is properly enforced.
According to tests performed by Reuters on ChatGPT, the Microsoft-backed bot is not reluctant to respond to certain queries.
Reuters quizzed Ernie on Xi on Monday, asking him about his leadership skills, and his achievements in China, and demanding a poem and picture of the leader.
It refused to address the majority of these inquiries but offered a two-paragraph summary of Xi's history and responsibilities in response to a few of them.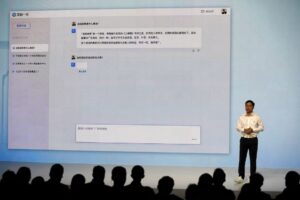 "As an AI large-scale language model, I have not learnt how to answer that question, you can ask me some other questions, I will do my best to help you solve them," the bot said.
Questions about China's 1989 suppression of pro-democracy protests in Tiananmen Square in Beijing and the persecution of the Uyghur Muslim ethnic minority in the western region of Xinjiang garnered similar reactions.
It sometimes recommended the user change the topic of conversation. A request for clarification from Baidu was not instantly responded to.
"Let's change the subject and start again," read a prompt Reuters received over a dozen times in response to sensitive questions.
Such responses were not limited to Xi or subjects forbidden in China. When identical inquiries were performed regarding Vice President Joseph Biden and his predecessor, Donald Trump, the Ernie bot would similarly answer with the same restart prompts.
The bot replied that it considered "relevant laws and moral standards" when determining whether a subject may be "openly discussed" when questioned about how it tackles delicate subjects.
On launching the Ernie bot last week, Baidu CEO Robin Li stressed that although it wasn't perfect, users should be understanding of its faults as the chatbot could become a lot better with customer feedback.
Although the bot was able to offer comprehensive replies to certain inquiries about international affairs, such as why the relationship between the United States and China has deteriorated, that altered the topic once asked about more disputed inquiries, like whether China should be using force to reunite with Taiwan.
The severe restrictions on the political debate are consistent with Baidu's compliance with government demands to restrict the outcomes of queries on delicate subjects.
Comments
comments