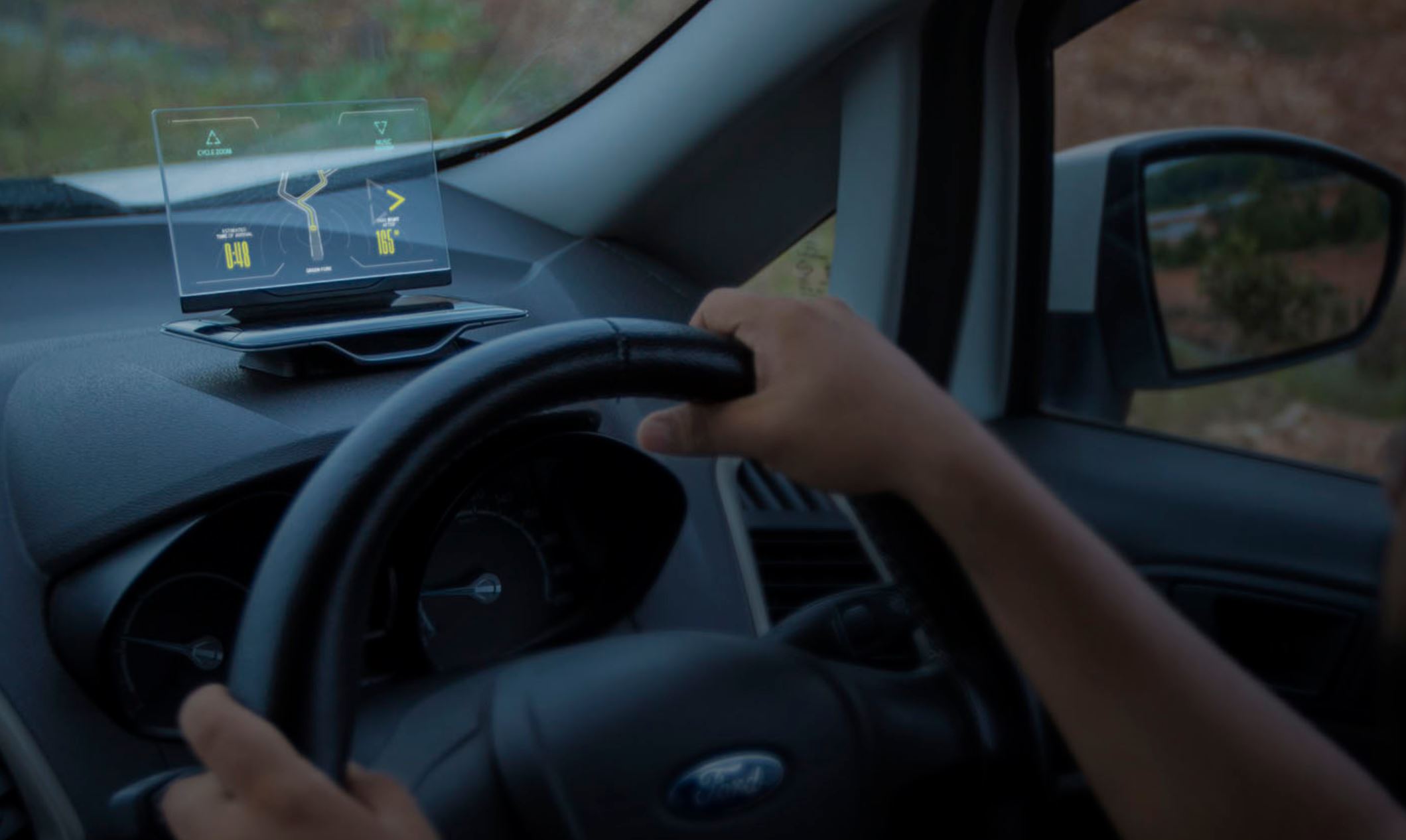 Where are your eyes supposed to be while driving a car? On the road! But what in reality happens is that our eyes keep wandering to our phone calls and texts, the current song playing, maps for the route, checking the display dashboard for car speed, mileage and many more. The majority of the accidents occur when our eyes are not on the road. Remember the times, when we used to play our favorite racing games, we had every detail we ever needed right on the screen. This very much helped us to win the race, by not letting our eyes wander off the screen due to distractions.
Head-Up Display dates back to pre world war II, where fighter jets had these installed in their system (just like the cool flight simulation video games). Now a days even cars have those options. If you've recently visited the Audi, Benz or other high-end car feature updates, your eyes naturally focuses on the HUD options available check box. Existing cars are also being modified to this luxury, using dedicated HUD devices and smart phones.
Explore your Ride
Exploride is a Head-Up Display that sits on the dashboard of cars and helps to guard away the distraction. It transfers the information you need from a Bluetooth enabled smartphone to a transparent display. It even lets you access the information by simple hand and voice gestures. They are currently targeting automobile enthusiasts and technology enthusiasts. Their intention is to expand their focus to include 1.5 Billion automobile users around the world, because they believe that Exploride can offer the users a distraction free driving and a real time driving help. At present they have only one competitor – Navdy based in SF, USA.
Exploride Features
The superior specification they use in their product is not available in their nearest competitor or any other Head-up display available in the market. Their product is a standalone device, you can use Exploride even without a mobile phone. Exploride comes with an inbuilt SIM card slot (unlocked), 8GB of Internal storage, inbuilt noise cancellation microphone, and dual speakers. You can also save offline maps, music & more. You can even use Exploride as a Wi-Fi hotspot in your car. Exploride's user experience is designed in such way that, it will be easy to use in the day to day life. Exploride uses four simple hand gestures UP, DOWN, LEFT, and RIGHT, compared to THUMBS UP as a gesture control which is really difficult to do while you are driving. Best of all, there is a dashcam on the front so that you can record your adventures and save directly to cloud or stream / share to your friend circle or EXPLORIDE network.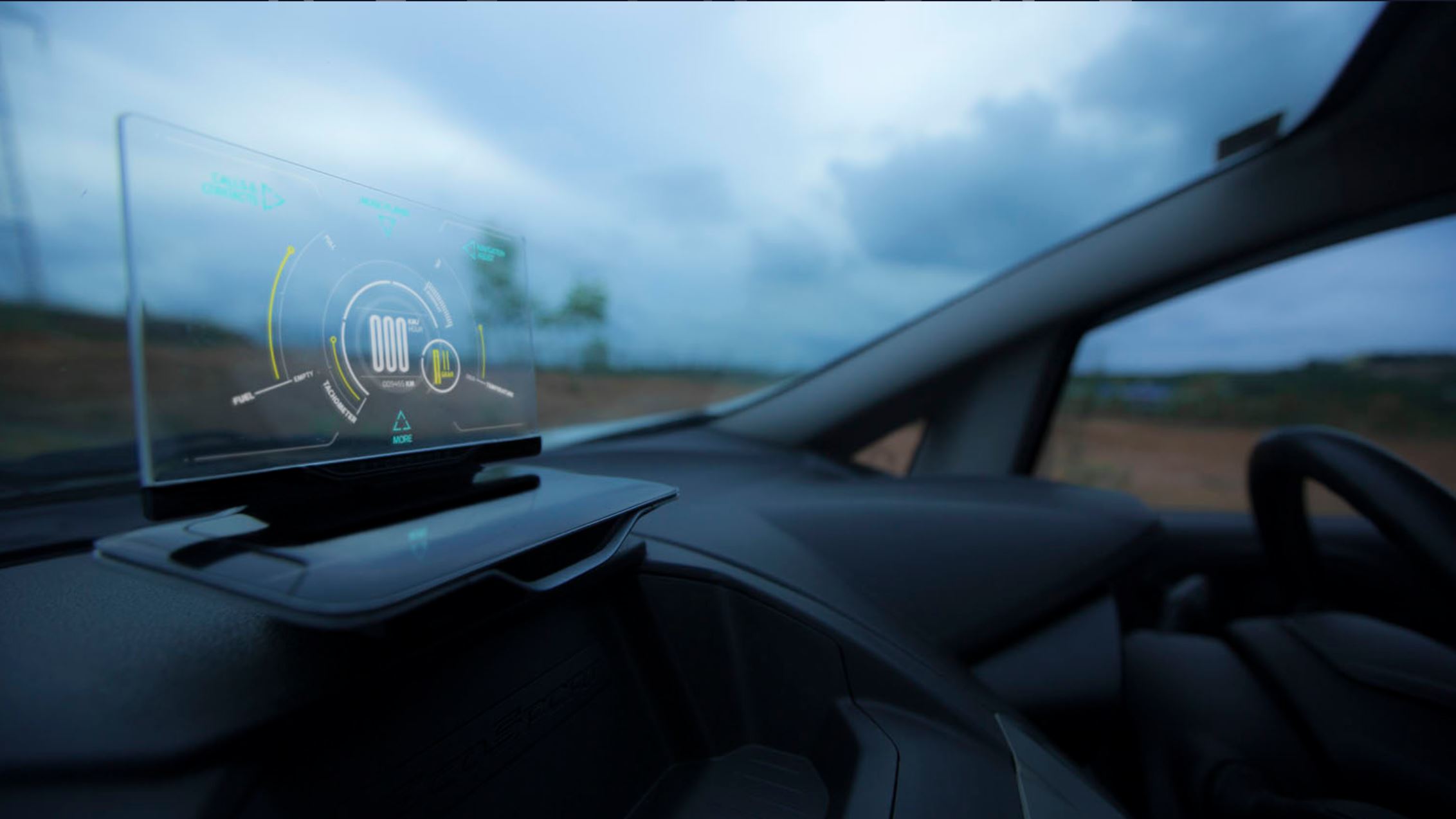 The Beginning of Exploride
Sunil Vallath, a computer science graduate is the only founder, basically he's from eastern part of Kerala (god's own country). He has over five years of experience working as an IT Engineer at places like Wipro and MSX – Dubai. He holds a serious track record of working under deadline and managing prestigious projects individually and as a team. The actual story of the exploride started in a ride.
Sunil Vallath and his fiancée (now wife) used to talk endlessly on the phone, even while driving. He was on the other end of the phone when she had an accident. She escaped unhurt but it shook him up.
"This incident got the engineer in me thinking about a less distracting hands-free device that could help one stay connected without taking one's eyes off the road."
That led to Exploride. The company was incorporated in August 2014 in India and registered as a Delaware corp in November 2015. So far they have six members in their team including his wife Parvathy who works as Operating Officer. She holds masters in Business Management from University of Baltimore. Among the group they have talents from NID etc who collectively help to master their dream come true.
The Exploride Challenges
Getting into hardware space in India is not very simple, especially when you are developing something like Exploride which is complex. Getting a good mentor in this space is not just hard, it's kind of impossible. Luckly Sunil met Mr. Ritesh Malik, Founder of Project Guerilla, who is a serial entreprenuer and one of the only investor from India who invests in hardware space without hesitation. Ritesh has an interesting pool of hardware startups accross India. People like Rohil Dev – Founder and CEO – finrobotics helped them a lot in the development phases.
The Exciting Journey
They started pretty well and the concept was accepted at the early stage itself. Sunil started up Exploride with just INR 500 in his pocket, he won the Young Entreprenuer Summit award for Exploride last year that helped him to raise seed fund of 70K USD from Project Guerilla as lead investor. He's proud to announce that today after a year they have achieved their goal of $100,000 in just first 5 days after launching their pre-order campaign.
"Speed at which Exploride raced to its target sets a new high record in India." 
Their pre-order campaign page has raised $164,000 till now and continuing strongly. They are currently looking for funding and they have a set a stretch goal of $500,000 in their pre-order campaign and determined to deliver the product in time. Team Exploride is glad that people are accepting their product and getting noticed all over the world. They are also featured in leading Tech magazines like CNET-US, Uncrate, Digital Trends, Tech in Asia and the list goes on.
Note to the Readers from Sunil Vallath
"What I learned from my entrepreneurial journey is that, no matter how many people believe or don't believe in you, you must be the ultimate believer in yourself. Make sure you always surround yourself with positive people and draw inspiration from how they've overcome challenges in their lives. Avoid negative thoughts and company."
Comments
comments