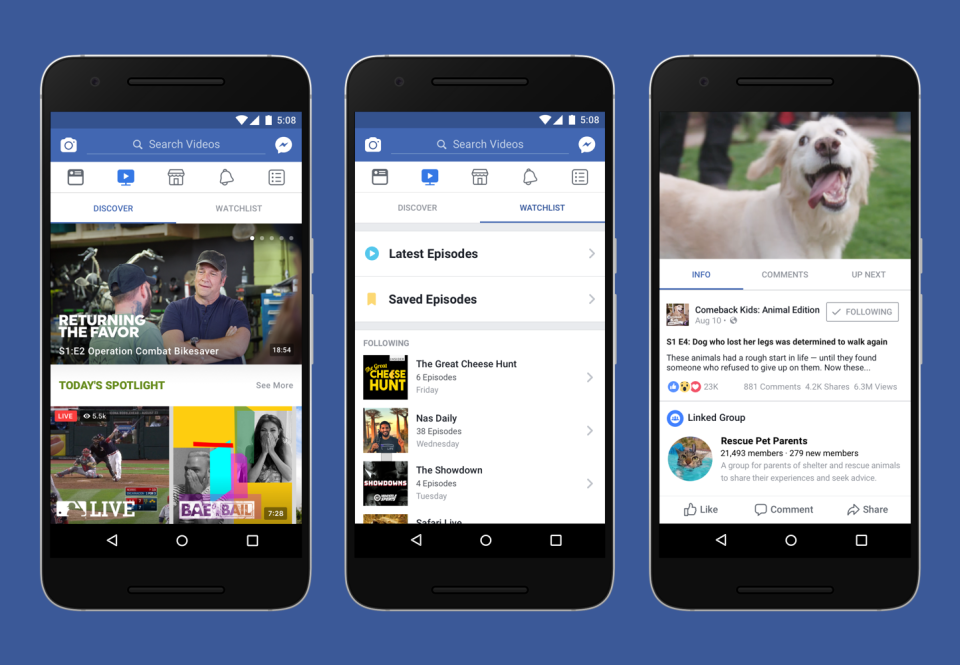 10 August 2017, India:
Facebook has announced a new way to watch your favourate videos- 'Watch'. Watch will directly compete with the likes of YouTube and other online video services.
Daniel Danker, Director of Product, Facebook said, "We're introducing Watch, a new platform for shows on Facebook. Watch will be available on mobile, on desktop and laptop, and in our TV apps. Shows are made up of episodes — live or recorded — and follow a theme or storyline. To help you keep up with the shows you follow, Watch has a Watchlist so you never miss out on the latest episodes."
Watch is personalized to help you discover new shows, organized around what your friends and communities are watching. For example, you'll find sections like "Most Talked About," which highlights shows that spark conversation, "What's Making People Laugh," which includes shows where many people have used the "Haha" reaction, and "What Friends Are Watching," which helps you connect with friends about shows they too are following.
Also read- When Will India Create Tech Giants Like Google, Apple, Tesla Or Facebook?
The service is presently being tested with a handful of users in the US and will gradually roll out nationwide. Facebook is funding some shows and inviting independent creators to sign up to the platform on their own as well; once they're in, they'll get a Show Page (similar to Pages for brands) that fans can follow and find clips on, The Next Web reported.
Here's a list of some of the original programming that will be available on Watch:
Tastemade's Kitchen Little – This cooking show sees kids watch a how-to recipe video, then instruct a pro chef how to make the dish with comedic results
Major League Baseball – The MLB will broadcast one game a week live on Facebook
Major League Baseball "12:25 Live" –  A comedic look at baseball with help from the fans
Mike Rowe – Rowe finds people who've done great things for their community and gives them a special experience in return
Nas Daily – Vlogger Nas (Correction: Not the rapper) makes videos with his biggest friends each day
Gabby Bernstein – Motivational speaker and author answers fans' life questions in live and recorded segments
A&E's "Bae or Bail:" – Reality TV game show where couples face their fears and see who runs
All Def Digital's "Inside the Office" – A look inside the office life at Russel Simmons' hip-hop media empire
Billboard's "How it Went Down" – A documentary series of musicians sharing crazy stories
David Lopez's "My Social Media Life"  – A reality show about the social media star's life
Golden State Warriors' "Championship Rewind"  – A behind-the-scenes look at the Bay Area's NBA championship 2016-2017 season
Univision Deportes' "Liga MX" – Live coverage of LigaMX soccer matches
National Geographic's "We're Wired that Way:" – Mini-documentaries about weird quirks of humanity like songs you can't get out of your head
National Geographic's "Safari Live" – Watch live safaris led by National Geographic's guides
NASA's "Science @ NASA" – Explore science topics in quick four to five-minute episodes
NBA's "WNBA All-Access" – A behind the scenes show with women's basketball stars
The Dodo's "Comeback Kids: Animal Edition" features determined animals facing difficult conditions or challenges meet people who refuse to give up on them.
Tommy Mac – A master woodworker gives live tutorials on how to make furniture
(Image- Facebook blog)
Related read- Amidst Layoffs Elsewhere, Facebook to Build Village for its Employees!
Update – A free YouTube Downloader Online tool which will help you to download YouTube videos to computer and market over the Internet and other popular video blogging websites.
Comments
comments