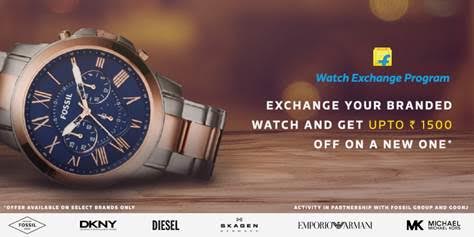 23 May 2016, BENGALURU: Online Marketplace, Flipkart introduced India's first-ever online exchange program for watches. This first-of-its-kind initiative is in tie-up with leading watch brand Fossil and Goonj. The watches that are received through this exchange program will be contributed to Goonj—an award winning voluntary organization in India. Once the sale is over, the watches will be distributed by Goonj in the areas where they currently offer humanitarian services.
Customers can avail upto Rs.1500 off on watches under Fossil brand (Skagen, Emporio Armani, DKNY and Michael Korrs) in exchange of old watches till end of May 2016. This initiative is aimed at offering customers' value for their old watches as well as a chance to upgrade to premium styles, designs and technology.
Commenting on the latest exchange program, Rishi Vasudev, VP – Fashion, Flipkart, said, "Flipkart Watch Exchange, is the first-ever online exchange offer on watches in India which will help customers make a difference. With this new initiative, our focus is to offer customers an easy way to exchange and upgrade to premium models that they desired to buy next. Additionally, our partnership with Goonj will also help customers with the right channel to donate their watches. Last year, we launched our exchange programs for mobiles and appliances which has been a great success. Introduction of exchange program for watches is a first-of-its-kind effort that the Indian watch industry will see."
"Customers are increasingly browsing and shopping for watches online. Flipkart has witnessed tremendous growth in demand across budget and premium watch brands. With close to two lakh watches from across 50 brands, this is one of the fastest growing category under Flipkart lifestyle," he added.
Flipkart is India's online marketplace with over with over 60% market share of mobile commerce. With a registered customer base of 50 million, Flipkart offers more than 30 million products across 70+ categories including Smart Phones, Books, Media, Consumer Electronics, Furniture, Fashion and Lifestyle.
Comments
comments