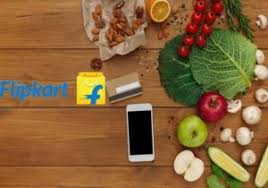 06 November 2017, India:
Flipkart launched its grocery delivery service Supermart on Monday in Bengaluru. Right now, this service is only available to selected customers. Those selected customers are Flipkart's employees. The minimum order amount is Rs 500. And there is no delivery charge on orders above Rs 1000.
Supermart will be a service offered within the Flipkart App. People don't need to download another app to use this service. Flipkart will build a dedicated supply chain for its grocery delivery service Supermart. New options like Open-box delivery are available in Flipkart's Supermart. In Open-box delivery, the customer can open the box and can verify the products before accepting the order. If any issue is found, then the customer will have the option to return the order without accepting it.
Flipkart has tried to enter into grocery market before also. In October 2015, Flipkart launched an app Nearby, which was a separate groceries ordering app. Customers had the option to order fruits, vegetables, saops and some other products. Nearby delivered the products to customers from nearest supermarket. But, the app failed to attract customers. So, Flipkart closed the business.
Flipkart has big competitors in grocery market. Last year, Amazon (the biggest rival of Flipkart) launched their groccery ordering app Amazon Now. Amazon told that orders placed on Amazon Now will be delivered in 2 hours. Amazon Now has established itself and its services are available in Bengaluru, Delhi-NCR and Mumbai. Another service of Amazon India named Amazon Pantry is also present in grocery market. Amazon Pantry offers next-day delivery. Amazon has planned to invest $500 million in Indian e-retail of food products.
Paytm along with its investors Alibaba is also planning to expand their market share in Indian e-retail of grocery. Paytm is planning to buy a big stake in Big-Basket and talks are going on this.
Another competitor Grofers is also present in grocery e-retail. Grofers provides its service in 18 cities : Delhi-NCR, Mumbai, Bangalore, Kolkata, Pune, Ahmedabad, Chennai, Hyderabad, Jaipur, Lucknow, Surat, Chandigarh, Kanpur, Agra, Indore, Nagpur, Ludhiana and Vadodara. Grofers is backed by Softbank and Sequoia Capital.
So, Flipkart has a lot of competition in this market. There is no news on when Supermart service will be expanded to other cities.
(Image – HungryForever)
Comments
comments