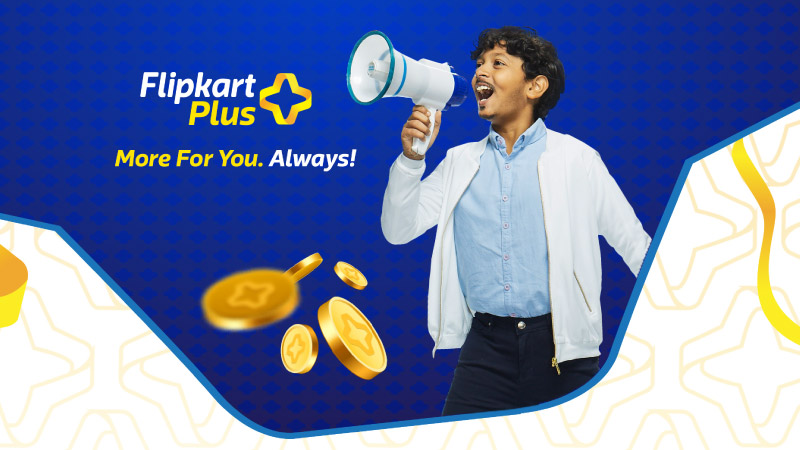 It's simply raining offers and discounts for consumers these days. After availing huge discounts and free delivery services from Amazon Prime, now it's time to make use of Flipkart Plus. Yes, to take on its arch rival Amazon's Prime service, Flipkart has launched a loyalty program called 'Flipkart Plus' on this Independence Day, i.e., August 15. Seems like it's time for consumers to get ready for another shopping bonanza!
What is Flipkart Plus
As mentioned already, 'Flipkart Plus' is a loyalty program through which this e-commerce platform is going to challenge Amazon Prime in India. It is a no-cost membership model, through which customers can earn reward points for every purchase they make whether they buy mobiles, home appliances, or books.
The reward points are called 'Plus coins' and one needs 50 such coins or reward points to get membership of Flipkart Plus. You can win 1 Plus coin on the purchase of every Rs. 250 on Flipkart, subject to a maximum of 10 coins per order. Apart from that, you do not need to pay any extra subscription fee. Moreover, Flipkart has gifted some members 50 coins based on their purchase history. Such members can immediately join the membership program.
With Flipkart Plus, consumers can access benefits like free delivery and early access to Flipkart's sale events like Big Billion Days and Big shopping Days. Members can also avail priority customer service and exchange offers besides getting rewards across different brands as per the number of transactions they make.
Flipkart Plus Vs Amazon Prime
Right after its announcement, Flipkart Plus is being compared with the Amazon Prime, although there are some fundamental differences between the two programs. The basic difference between the two is that Flipkart Plus is free, i.e., you do not have to pay any membership fee, while to avail the Amazon Prime service, you need to pay a subscription fee, either annually or monthly. The annual fee for Amazon Prime is Rs. 999 and the monthly fee is Rs.129.
However, Amazon also offers some exclusive deals on mobiles, smartphones, home appliances, electronics, and Amazon devices like Amazon Echo for prime members. Flipkart Plus, on the other hand, is a points-based program that allows customers to earn Plus coins with each order they place, just like credit points. These coins can be used for availing benefits not only in shopping but also in travel and other categories.
So, the benefits one gets will basically depend on the Plus coins or loyalty points he or she earns. The Plus members can earn Plus coins everytime they use Flipkart to make their purchases. They can exchange these coins for rewards from other internet companies like BookMyShow, Zomato, Hotstar, etc. For example, they can use these coins to get free vouchers from these companies or get a free annual subscription from Hotstar Premium.
Will Flipkart Plus Outplay Amazon Prime?
Amazon Prime has become a defining factor for Amazon in India in the last few years. In fact, it comprises 35% of all orders on Amazon India. Despite the fact that one needs to pay an annual or monthly subscription fee for Amazon Prime, It has become extremely popular for its streaming services like Prime Video and Prime Music.
But, Flipkart does not provide such services. So, in order to compete with Amazon Prime, it is going to rely on a no-cost membership program. The free strategy is going to be the biggest strength of Flipkart Plus, as the Indian market usually responds to such strategies positively.
To counter the popularity of Prime Video and Prime Music, it has partnered with the popular streaming platform, Hotstar. It has also partnered with a number of Internet companies like Hotstar, Zomato, MakeMyTrip, and Café Coffee Day to offer more benefits to consumers.
So, while free membership and the ability to earn Plus coins will give Flipkart Plus an edge, the Prime Video and Prime Music are going to be the strengths of Amazon Prime in this battle.
Conclusion
As of now, it is hard to tell whether Flipkart Plus will outsmart Amazon Prime or will fizzle out like its predecessor, 'Flipkart First'. The 'Flipkart First' was the first loyalty program launched by this e-commerce platform, which failed to make much of an impact.
However, things might take a different turn this time, as the retail giant Walmart's entry as the controlling shareholder is likely to give a boost to Flipkart financially and enable it to compete with Amazon.
Image Credit: Stories.flipkart.com
Comments
comments