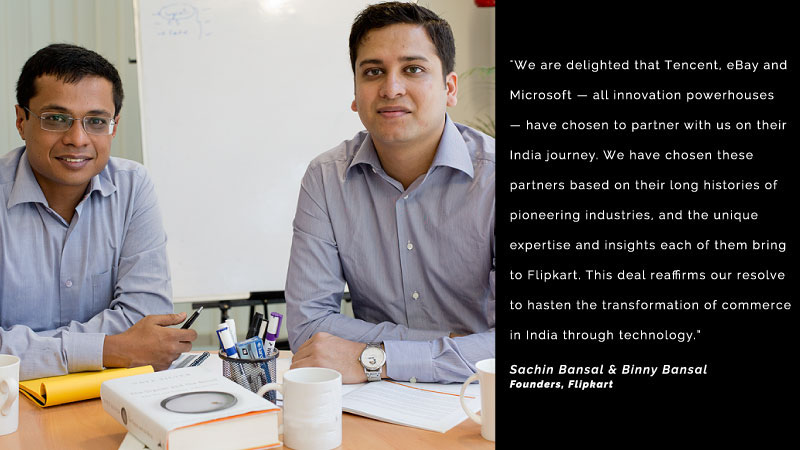 10 April 2017, India:
India's leading online marketplace Flipkart has raised $1.4 billion funding from Tencent, eBay and Microsoft. The latest funding round from the three global technology giants, at a post-transaction valuation of $11.6 billion, adds to an existing group of marquee investors that include Tiger Global Management, Naspers Group, Accel Partners and DST Global.
Flipkart also announced that it has acquired eBay India. The investment by eBay is accompanied by a strategic commercial agreement with Flipkart. In exchange for an equity stake in Flipkart, eBay is making a cash investment in and selling its India business to the company.
eBay India will continue to operate as an independent entity as a part of Flipkart.
Fantastic fusion of synergies!Tencent @eBay @Microsoft & @Flipkart! Giant leap for Indian ecommerce https://t.co/tNjd6phftC #FlipkartBigWin

— Sachin Bansal (@_sachinbansal) April 10, 2017
"We are delighted that Tencent, eBay and Microsoft — all innovation powerhouses — have chosen to partner with us on their India journey. We have chosen these partners based on their long histories of pioneering industries, and the unique expertise and insights each of them bring to Flipkart. This deal reaffirms our resolve to hasten the transformation of commerce in India through technology," Sachin Bansal and Binny Bansal, Founders of Flipkart.

Tencent, a leading provider of internet value-added services in China, joins as a strategic investor, bringing experience in linking social networking and e-commerce. Tencent will lend significant expertise to Flipkart as it furthers its leadership position across the e-commerce market in India. (Image- Flipkart)