Forbes': With different economic, social, and political crises happening around the globe, many billionaires lost their place. Approximately half of the planet's billionaires (2,640) lost their status in 2022 and some went down even poorer. This year 254 people dropped down from the list completely.
Several factors accumulated that grappled billionaires with the harsh truth of inflation, geopolitical tensions and the bursting of the crypto bubble uncovered worries in both public and private markets.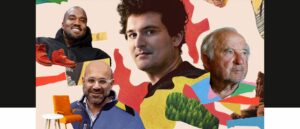 Decrease in the number of billionaires around the world:
On April 5, Forbes' released a list of the world's billionaires that showed the number of billionaires failing their spots. The list dropped from 2,668 in 2022 to 2,640 in 2023. Also, the worth of billionaires has hit as well from $500 billion to $12.2 trillion.
The list showed some famous faces that lost their wealth altogether, making the number 254 in total, including musician Kanye West and Sam Bankman-Fried, a crypto prodigy-turned-fraud defendant.
As per the report, around 19 founders of multinational "unicorn" companies, including Alex Atallah and Devin Finzer of NFT marketplace OpenSea, as well as Henrique Dubugras and Pedro Franceschi of credit card fintech Brex, had to let go of their billionaire status.
The founder of outdoor clothing and gear Maker Patagonia, Yvon Chouinard, withdrew from the list by his own choice. He donated his wealth to a nonprofit organization and a trust to fight environmental crises in September 2022.
List of billionaires that have grown richer as per the Forbes':
Although there were people who lost their status, some of the billionaires grew richer over the years. More than 1,000 billionaires have grown richer as per the comparison between Forbes' 2022 and 2023 lists.
Some of the faces like Bernard Arnault, a luxury goods tycoon, grew his wealth of $211 billion with a fortune of $53 billion, an increase of 18 per cent over the past year. He is currently the world's richest person surpassing Elon Musk.
Another face is Low Tuck Kwong, an Indonesian coal magnate who saw his net worth increase by $21.8 billion, now estimated at $25.5 billion.
Followed by Spanish retail magnate Amancio Ortega who added $17.7 billion and Colin Zheng Huang, a Chinese e-commerce mogul added $18.9 billion to his fate.
Well-known billionaire, Elon Musk, CEO of Tesla, SpaceX and Twitter, who held the top position last year has slipped to the second position on the list of the world's billionaires. His worth currently is $180 billion which is $39 billion less than what it was a year ago.
Jeff Bezos, the Amazon founder, has a net worth of $114 billion, which is a $57 billion decline as compared to last year. He is the world's third-richest person. The reason behind his downfall is the 38% drop in the stock value of the e-commerce giant company, Amazon.
Followed by Larry Ellison, co-founder of software giant Oracle, who took up the number fourth spot with a net value of $107 billion and Warren Buffett, investing legend took the fifth spot with a net worth of $106 billion.
Place of Indians on the list:
India's only billionaire among the top ten is Mukesh Ambani with a net worth of $83.4 billion. He is the chairman of Reliance Industries. In 2022, Reliance became the first Indian company to cross $100 billion in revenue.
Meanwhile, Gautam Adani, the chairman of the Adani Group is placed in the 24th rank with a net worth of $47.2 billion.