On Tuesday, the U.S. Federal Trade Commission urged a judge to halt Meta Platforms Inc's (META.O) takeover of virtual reality developer Within Unlimited while the parties awaited the judge's ruling.
The FTC filed a complaint against the owner of Facebook and Instagram in July to prevent the Within purchase and requested the court to grant a preliminary injunction. The FTC alleged that Meta's "campaign to conquer VR" started in 2014 when it obtained VR gear maker Oculus. The lawsuit went to trial in December.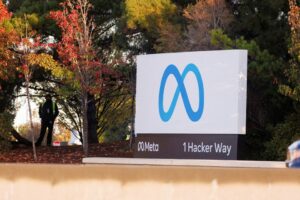 The company requested that the judge should order Meta to postpone completing its agreement for Within until 11:59 p.m. Pacific time on the first business day following the judge's decision on whether the deal may proceed. Or, the agency stated in a legal brief, the judge might choose to extend the current temporary order of protection by another week.
On Tuesday evening at 11:59 Pacific time, the existing restraining order will end.
The FTC's attempt to avoid what it perceives as a repetition of the company buying tiny upcoming would-be competitors to assure supremacy, this time in the nascent virtual and augmented reality marketplaces, is being put to the test in the battle to ascertain whether Meta could keep moving forward with this comparatively small agreement.
Virtual reality:
Pose tracking and 3D near-eye displays are used in virtual reality (VR) to provide users with a realistic sense of a virtual environment. Virtual reality has applications in industry, training (such as medical or military training), and entertainment (especially video games) (such as virtual meetings).
Aside from virtual reality, additional different forms of technology include augmented reality and mixed reality, sometimes known as extended reality or XR, however, the terminology is still evolving as the field advances.
Reality Labs (subsidiaries of Meta):
Virtual reality (VR) and augmented reality (AR) gear and applications, including virtual reality headsets like Quest and digital sites like Horizon Worlds, are produced by Reality Labs, a research and business division of Meta Platforms (previously Facebook Inc.).
Numerous artificial intelligence (AI) projects that were once a unit of Meta AI were moved to Reality Labs in June 2022. This comprises the Reality Labs – Research (RLR) branch's division of FAIR, Meta's primary AI Research lab.
The division known as Reality Labs was created by merging many Meta Platforms projects and integrating various purchased businesses.