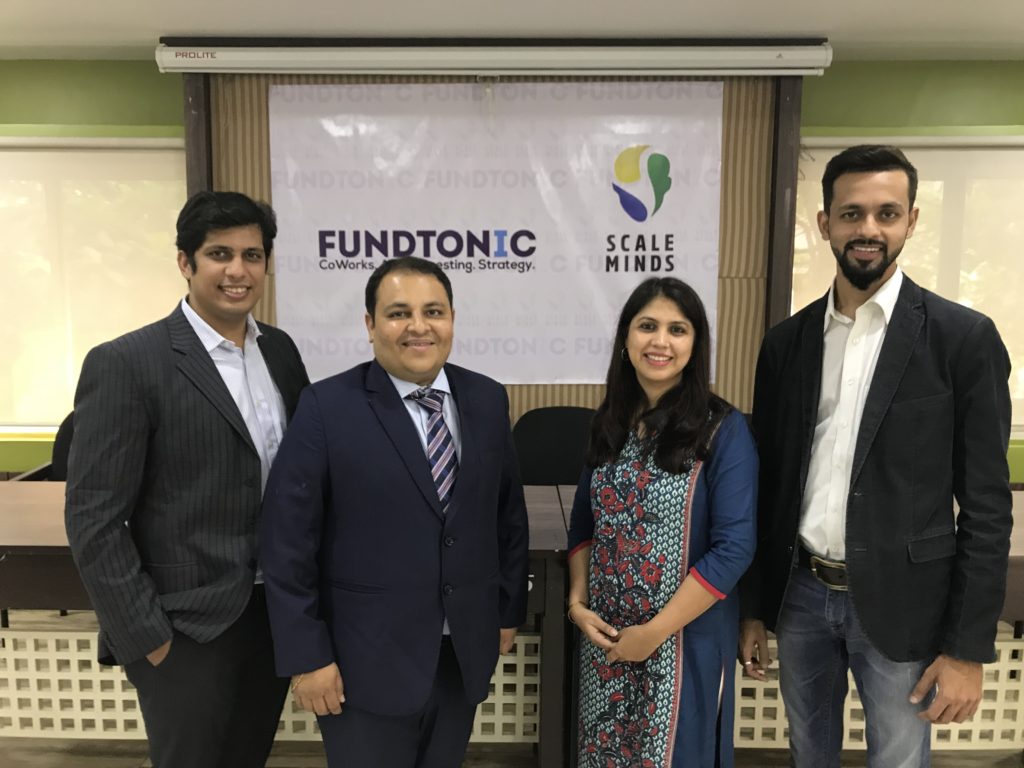 Renowned dignitaries & angel investors to be present at the event
Startups to be guided on product development, business strategy & business development
Company also announced the launch of a 15000 sq ft Co-Working space in Baner
Pune, 16th November 2017: FundTonic, an angel network with over 700 angel investors announced the launch of Pune Startup Marathon 2017 today. The company also announced the launch of a 15000 sq ft state of the art Co-Working space in Baner. Present at the event were Ipsita Nayak – PR officer, 5F World, Akshit Gupta – Founder, FundTonic, Jiignesh Jaiin – Founder, YGEN Capital and Nainesh Kapadia – Founder, ScaleMinds. The main event that is supposed to take place on 25th November at FundTonic Co-Works shall have the presence of Speakers, Mentors & Angel Investors from across the globe who will not only invest in startups but also ensure interventions for product development, business strategy and business development to help accelerated scaling up of startups' business. In addition to marquee Fund Manager and StartUps, mentors include startups that have made it through IPO within a short span of time, expanded businesses globally and seen it all.
The event will witness the launch of exclusive initiatives for Pune StartUp eco-system, viz. Launch of sector agnostic seed- funded global accelerator, Launch of seed funded healthcare-focused accelerator, Exchange program to help scale Pune startups to ASEAN countries, Europe and much more. Chief Guests will include Dr. Ganesh Natarajan, Founder – 5Fworld & Ex-Chairman, Nasscom Foundation and Lt Colonel Rakesh Krishnan (Retd), Founder – Catfitex Special Forces (Indian Army) & National Security Guard as key note speakers. The event is supported by ScaleMinds, Bill Cloud, Pune GDG, Tie Pune, YGen Capital, IIT Kanpur Alumni Association amongst many other distinguished brands.  Some of the other dignitaries at the event will include Sanjib Jha, Lead Advisor, SIDBI /World Bank; Dr Amarendra Sahoo, Chairman, Atom Technology Ltd; Ajay Desai, Senior President, Yes Bank; Bhavin Parikh, CEO, Globe Textiles India Ltd; Dr. Sujata Malik, CEO & MD, Sunburst Healthcare; M. Radhakrishnan, Co-Founder, Autoline Industries; Santanu Samanta, Head- Business, BillDesk; Miten Mehta, Co-Founder, Spinta Global Accelerator, etc.
"As investors and participants in the Digital Start-up eco-system at 5F World, we believe the future of Digital and Industry 4.0 Transformation lies in an eco-system where large customers investors and aggregators participate with high velocity young companies. This event by FundTonic will facilitate such synergies", says Dr. Ganesh Natarajan, Founder, 5F World, Ex-Chairman – Nasscom.
Akshit Gupta, Founder of FundTonic, says, "With the launch of our operations in the city's suburbs, we expect a rise in the number of startup applicants as well as investors for the Pune market by a considerable amount. This year we plan to invest in at least 5 startups from Pune within 6 months. Our state-of-the-art Co-working Space is spread out at a current 15000 sq ft of area which we plan to increase to 40,000 sq feet in the next 6 months."
Started out by Akshit Gupta and Bhavin Parikh as an angel investor network with 150 investors last year, the brand now has 700 investors with over 300-400 startup applications for fund raising every month. Presently the company has 50+ mentors, who will mentor startups in executing their Go-To market strategy and the team aspires to increase the number to 500 in the next few months.  FundTonic closely works with ScaleMinds accelerator and a pre-accelerator programme that helps startups ascertain how feasible their ideas are. FundTonic also guides investors in funding prospective start-ups by targeting deeply upon the analytics.  ScaleMinds Accelerator, founded by Nainesh Kapadia, in September last year, plans to invest in 20 startups every year and work closely to mentor them. The customized accelerator programme provides selected startups access to exclusive tie-ups with a network of 3,000+ investors supported by leading angel networks. The list includes investors from FundTonic, IAN, Ah Ventures and other angels. Navin Honagudi of Kae Capital, Miten Mehta of Spinta Global Accelerator, Axel & Boris of Yesss Capital, Dhanraj Chandriani of Technecon Healthcare Pvt. Ltd, Rajesh Sehgal of Equanimity Investments, and Bhavin Parikh Co-Founder of FundTonic, are associated as mentors to Scaleminds.
Recently ScaleMinds received more than 2,300 applications out of which the final five were selected. ScaleMinds continues to invite applications for the accelerator programme and aims to fund 20 more startups in next six months.  The selected five startups for its 100 day accelerator programme were provided with a Seed funding of atleasst $15K (INR 10 Lakhs) each in addition to business strategy consulting and business development support. These included Myfutball – a one-stop app for Indian football fanatics, Taxgenie – a platform that will help 30 Mn MSMEs be GST-compliant, GAIA Bespoke, a one-stop destination for Indian working women, HRiS365.com an online/cloud-based human resource management system (HRMS) and Navigers that  helps in Connecting Travellers.
FundTonic is the only company in India which provides state of the art co-working spaces, investments and growth strategies to startups in an integrated fashion. Its is a network of over 700 active angel investors, manages a fund for early stage investing and currently operates 30,000 sq ft state of the art co-working spaces in Mumbai, Pune and Bangalore. FundTonic team has enabled investments in over 60 startups with an exceptional track record of majority of the portfolio providing superior return to investors. FundTonic will continue to provide investments, work with startups to create more success stories.