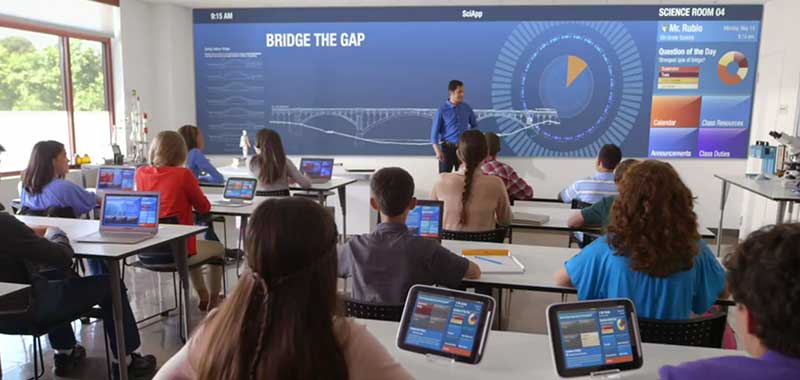 The quote by Richard Stallman rightly fits the induction of technology into Education which reads, "Sharing is good, and with digital technology, Sharing is Easy Indeed".
Digital technology is a way to make things done in an easier and smarter way, which is the need of the hour. Let's take a look at how embracing the digital technology can help students, teachers and the entire education industry –
Making Education Accessible from Anywhere to Everywhere

Education will be made globally accessible. Teachers can share their data and resources over the Cloud. Students can retrieve the information shared for them on Cloud independently and can perform self-learning on the modules.
Another way for teachers to impart their knowledge is via E-Learning modules. Teachers can record their videos and stream them online or share within relevant groups. The concept of Massive Open Online Courses is already pacing up quite fast.
In this way, the students shall be able to communicate with teachers in-house and globally as well. They can discuss their doubts, queries in classrooms using Backchannel devices and teachers can respond to them using Smart screens in Classrooms.
Once a class is done, it can be uploaded on YouTube. In case a student has missed a class, he or she can still go online and access it in order to not fall behind.
Assignment Generation and Submission Online
Teachers can generate requests and tasks for the Students for assignment submission in the digital tools like Formative, Google Forms, and Padlet and Students can submit their Projects, assignments online to be reviewed.
It's also possible for the teachers to give grades online based on the performance or share resources with the students in order to do good in the assignments.
VR and AR Technology in Class and Labs

Virtual reality and Augmented reality can bring about an excellent learning experience for students. Various gears from Google, Samsung, etc., are up in the market for use.
Teachers can make them visit the fields, create varied designs, view the historical things, and work in labs where students experiment without the risk of burning and dangerous chemicals. This will help enhance their imagination and creativity.
Peer Discussion and Collaboration via Online Forum

Students can use screen sharing mechanism via Skype and Google Hangouts to share their data and queries with teachers and classmates.
Post Bulletins and Schedules via a Digital Bulletin Board

Schools and colleges can make use of Digital bulletin board to post any class or institute wise bulletins. Teachers and students can also publish their own work, a piece of music, pictures, etc., using tools like Padlet, Trello, and Slatebox to list a few.
Courses Offered, Admission Forms Submission and Results

The institutes can display information on courses offered, faculties, infrastructure, and other data on their websites. They can connect with digital marketing experts to promote themselves on social networking platforms and other websites using the advanced digital technology methods.
Colleges and schools can accept admission forms and fees online and offer counseling via online chat or call. Results can be declared online, and students can access their marksheets and download them and or share link to apply elsewhere.

Conclusion

Digital technology has started playing a vital role in transforming the education sector and taking it to the next level. Its future in education is promising but it will rely on what is being used and how it's being used.
In order for technology to function successfully, the students, teachers, and institutions need to be trained on the tools and make the most benefits of it by integrating technology with the education system.
Agencies like SRV Media are helping educational institutions throughout India in taking a closer look at technology's developing role in the field of education and adopting it seamlessly.
(Disclaimer: This is a guest post submitted on Techstory by Vikram Kumar. All the contents and images in the article have been provided by the author of the article. Techstory is not responsible or liable for any content in this article.)
Image Credit: Hesed.info
About the Author: Mr. Vikram Kumar is the Co-founder and Director of SRV Media and Easebuzz. SRV Media is a renowned digital marketing firm in India while Easebuzz is an online payment solution that mainly caters to the small and medium enterprises.
SRV media provides a one-stop solution to digital marketing requirements with services like search engine optimization, social media marketing, design & branding, mobile applications, website development, and more.