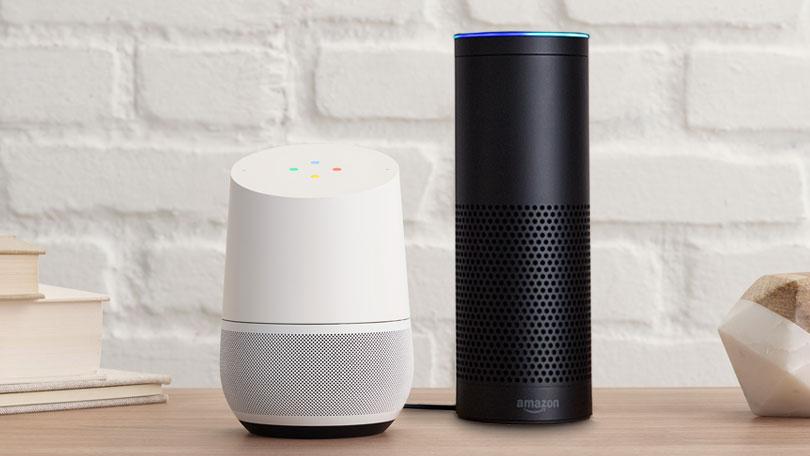 Both Google and Amazon are forever on a lookout to out beat one another. In an attempt to seize control in an arena of smart home solutions and speakers, Google came up with its all new speaker, referred to as Google Home.
This speaker is as a matter of fact a direct response to Amazon's Echo Dot, which is a smart speaker which the company had launched in late 2014. This smart speaker responds to questions as well as the commands of the user so it even performs functions of a personal assistant. As Amazon had a head start with its Echo Dot, Google Home really required to offer something truly wonderful to catch the fancy of the buyer.
Let us give you a brief sneak peek into how these two products fare against each other as regards their design, features, usability etc.
Outward appearance – Google Home Vs Amazon Echo Dot
Taking on the outward look, Google Home has a pristine white body which just looks fabulous, whereas Echo's boasts of a dark chassis which looks equally impressive.
Google Home has interesting LED lights which indicate whether it is working or switched off. The top is touch-sensitive. This petite, curvy device without doubt seems more endearing than Amazon's Echo Dot. But at the end of the day it all depends on user what kind of look the user wants. He or she can choose the product as per the need.
Working-Google Home Vs Amazon Echo Dot
Google Home needs to be plugged in, in order to function. So you have to decide about a suitable spot in your home to fix this speaker. Nevertheless, tethering the same to an outlet appears to be a better proposition. Echo is a full sounding speaker which can fill up a large area. Sound quality won't get too many admirers, but still it outperforms Google Home in arena of sound.
Google Home, enables you to use speakers by means of Wi-Fi as well as Google "Cast," The Echo  offers immense flexibility by syncing with Amazon Tap or even Dot and enabling you to set up your very own smart home audio system.
Related Read: Are We Being Smart About Smart Homes?
Google prefers that owners sync their Cast and Home devices, or take in various Homes, to accomplish the role of an all-encompassing Dot, Echo and Tap. When you use Google Home in combination with other supported devices, you can play whatever music you want in different rooms of your home. You can even then take advantage of voice-controlled features of this product.
Once the Google Home and its correlating devices have been properly mapped specific requests can be made. You can instruct Home to play whatever song you want in whichever room. The voice-command feature is simply amazing. It is akin to functionality offered by the Chromecast devices.
Technology- Google Home Vs Amazon Echo Dot
Both Amazon Echo Dot and Google Home make use of microphones with far-field technology. Echo and Home are not just pretty looking speakers. They function as proto-AIs, thus enabling the users to control their smart home devices remotely and process various tasks hands-free.
Amazon Echo can even integrate with Amazon Prime account of the user, and provide easy approach to all movies, music and apps which the user normally accesses.
Google Home, on the other hand, works in sync with a suite of apps offered by Google. This also includes Google Play. It also integrates with Google's Nest appliances, thus enabling you to, even set temperature in different rooms of your home. The Echo works with different smart-home devices, but is not very friendly syncing with other brands.
What makes Google Home so sought after?
Google has partnered with well known brands like Nest, IFTTT, Samsung SmartThings and Philips. So it definitely has an upper hand, as it is little less tough on how you desire to execute different commands. Without any problem, it changes color of Hue bulbs.
Alexa which is Echo's built-in AI assistant necessitates the presence of an IFTTT trigger to carry out such a task. Home even works with LG and Sony televisions in order to bolster Chromecast Audio. It has even assured Netflix will soon be available to use. So, it is quite likely that a spate of highly beneficial third-party apps will follow suit.
Google Assistant is a wonderful helper offered by Home. This no nonsense assistant takes personal assistants to the next level. Akin to Alexa it can perform a wide array of tasks.
From playing with your favorite track to scanning the calendar for a particular event or even checking the traffic it does so much for you without any problem. Google Assistant can even answer your questions.
Also Read: Smart Homes: Dream Come True Or Privacy Nightmare?
This is the field where it actually outshines all assistants. Google promotes this all new personal assistant as "conversational." It's not just answers all your inquiries; it offers an apt response and retains all the information you require. It even offers suitable answers to the follow-up questions.
For instance, if you ask Google Assistant, "Who is Julia Roberts"? It would give you basic information about the actress on the basis of her Wikipedia entry. Then if you ask, "Which is her most recent movie?"  It will provide you that information also. Now Alexa offers response to the first question, but will not offer you answer to subsequent questions.
Why Amazon Echo Dot is a better device?
With Echo you can set up various household profiles. This way you can switch between different users. This is very useful as it enables you share the device with your loved ones.  Google Home on the other hand is bound to only one account.
If you enquire about how your morning commute is, you will only get response for only your route and not your wife's. So, Amazon Echo appears to be a clear cut winner in this front.  The device is loaded with functionality and that also with minimum effort. It looks like a LED dumbbell.
Google Home is a good device, undoubtedly a better assistant, but overall Echo scores ahead. Echo has much superior third party support and so it enables you to do so much without even you putting so much effort.
About The Author:
Arun Goyal is Founder at Octal Info Solution, a leading mobile app development company, offering platform to hire android app developers for your own android app development project.
Follow him on Twitter , Facebook and LinkedIn and go through his ideas on distinct topics.