An employee of Google was laid off days after his first child was born. At 2 am, Nicholas Dufau who was feeding his newborn daughter received the email of his termination. He said he felt "acutely expendable" the moment he opened the mail. 
He was working as the Associate Product Counsel at Google for the past six months. He was on parental leave after his newborn daughter was born on January 17.
Mr. Dufau took to LinkedIn to share the same. He said, "Last Tuesday morning at 2am, I became a father. The next day, my Google teammates showered me with heart emojis and virtual confetti, wishing me well on my paternity leave. On Friday morning at 2am while feeding my infant, I received a notification that I had lost access to my Google corporate accounts. I had been laid off via automated email." He even shared a picture of himself feeding his daughter on his company's Slack channel.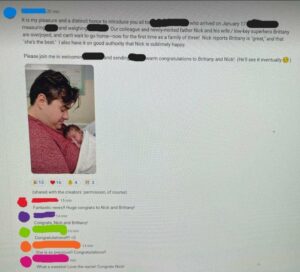 He expressed that his colleagues said that Google was a company "that treasured its employees" and encouraged him to take the entire extent of his parental leave. "And so last week marked the end of my 6 month stint at Google where I worked on a team packed with intelligent, driven, and kind folks who welcomed me into their Google family. They reassured me that the company was one that treasured its employees and encouraged me to take the full extent of my parental leave to cherish this precious time with my family," he stated. 
He said that he was very thankful to his entire team who viewed him as a valuable person. "Every layoff hurts-the timing of this experience, however, not only made me feel acutely expendable, it made me feel naive. Fortunately, many of my former colleagues have reached out with warmest wishes and sympathies, all while they continue to navigate what I'm sure are tumultuous times at Google," the former Google employee added.
He further added that his wife and his daughter are providing him with ample comfort and support and are trying their level best to lift his mood. Concluding the post, he said, "They have shown me that whatever difficulties I may be facing, I still have so much more to be thankful for. #google,"
Her wife commented that this layoff or his job does not indicate or equate his worth in front of her eyes and her daughter's.
After Google cut down several jobs and employees, many employees have shared their stories of how in the insensitive manner they were laid off from the company.
Justin Moore, an ex-engineering manager who worked with Google for over 16 years, said 'big, faceless' corporations see workers as '100% disposable'.
"So after over 16.5 years at Google, I appear to have been let go via an automated account deactivation at 3 am this morning as one of the lucky 12,000," he wrote on LinkedIn.
Dan Lanigan Ryan, a Dublin-based recruiter who was hiring nominees for Google, disclosed that he was terminated right when he was in the middle of a call.